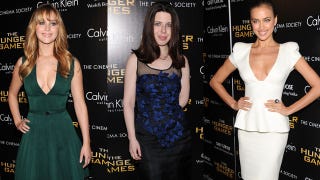 Things were generally subdued at last night's NYC screening of The Hunger Games, although Jennifer Lawrence's cleavage did make a splash.
Jennifer Lawrence: Winter's Boner. Isabelle Fuhrman (who plays Clove in the film) was part Robert Palmer babe. Kelly Bensimon knows that leather jackets are the sartorial equivalent of satchels of gold.
I'm guessing that Calvin Klein hosting the event influenced many of the outfit choices: Irina Shayk, Abigail Breslin, and Hilary Rhoda.
It was kind of a quiet, casual affair, as far as screenings go, so it was unsurprising to see many women in pants: Christine Teigen, Liya Kebede, and Bridget Moynahan.
Zoe Kravitz and Zoe Lister Jones work LBDs. Cool shades, bro! Matthew Modine's daughter Ruby is actually pretty hip, though. She's wearing a safety pin as an earring. Fred Schneider looks super stoned.
Heather Matarazzo has the kind of posture that incites pity. Lorenzo Martone's pants look like you could snort them. Patti Smith is now, quite literally, a bag lady.