Samin Nosrat handles food as it should be—with pleasure. In her Netflix series, Salt Fat Acid Heat, she explores the four pillars of good food by following these sensations to various sources around the world. In Italy, she tastes a thin sliver of barely-ripe Parmesan cheese made from the milk of red cows and sighs in ecstasy. Later, she makes pesto on a beautiful hilltop in the countryside, crushing basil and garlic in a mortar, pouring a rich, green stream of olive oil into the paste, under the tutelage of an older Italian woman who has welcomed her into her home. Later, in Mexico, she eats the Naranja, a sour orange, and puckers her mouth at tart honey. At home in Berkeley, Nosrat makes tahdig alongside her mother and tosses together a beautiful white bean and roasted vegetable salad that, in any other situation would seem fussy, but in her hands, is just careful, considered and well-intentioned.

While she visits far-flung locales in service of her message, she is not a parachuter or a colonizer, storming the shores and staking a claim. Instead, she's performing the work women have been doing for centuries, transforming it from labor to art, subverting the expectations in food TV that women are expected to stay at home and men—geniuses, gods, creators—can go out and conquer.
When seized by men, the thankless labor of making food is elevated to an art form. Male chefs are full of braggadocio and swagger. The image of the badass chef, armed with tattoos, big knives, and a disregard for society's rules, was crafted by a group of men like Mario Batali, Wolfgang Puck, and Jonathan Waxman. As documented in Andrew Friedman's 2018 book Chefs, Drugs, and Rock and Roll, the men who created the celebrity chef culture responsible for Bourdain, Bobby Flay, Andrew Zimmern, and Guy Fieri, considered themselves renegade outcasts who turned to cooking as a profession in a time when it was considered low-class work. It's this assumption, as Pete Wells, the New York Times food critic, notes in his review that grates the most: many of the men mentioned in the book came from upper-middle or middle-class families. Choosing to become a cook was a form of rebellion. Wells noted that with the rise of these men, who claimed that there was no specific "American" cuisine prior to their arrival also erases the work of the cooks working in restaurants and diners, who were quietly creating a vocabulary for an American cuisine made up of the food of immigrants. These men, who Friedman calls "godlike," created the contemporary celebrity chef culture with which we are now intimately familiar.
While it is now a cliché to invoke the specter of MeToo, it's necessary to point out that as a result of the reckoning, some of the culinary world's most revered personalities fell. Mario Batali and John Besh were both hit with sexual misconduct allegations during the heady time in 2017 when every day brought a new man to his knees. The celebrity food world is a cult of personality; male chefs assert dominance by going to extremes. Bourdain was a partial exception to this rule. His personal brand of kitchen badass eventually gave way to a kinder, more inquisitive nature, as evidenced in No Reservations. Still, that show, and many others like it, are aspirational. Giving up your life to parachute into exotic locales and ride on the back of a rickety motor scooter chasing down the world's best pho is an idle threat entertained only under duress. In contrast, shows like A Chef's Life on PBS and Salt Fat Acid Heat create a more inspirational—and compelling—narrative. Samin Nosrat, the charming and effervescent host of Salt Fat Acid Heat makes you feel at home.
While her show shares many visual and contextual similarities to travel and food shows hosted by men, there's a desire for knowledge that underscores the entire proceedings. Nosrat knows a lot about what she does, but what she's always willing to do is learn. As Jaya Saxena pointed out in her review of the show for GQ, Nosrat also chooses to center women in each episode, taking an old food TV trope —the grandmother—and turning it on its head. Mo Rocca's show My Grandmother's Ravioli exploits this stereotype in a way that is at least gentle and loving. In traditional food TV (i.e. shows like Barefoot Contessa or Trisha's Southern Kitchen on the Food Network), women's voices and experiences are heard from the elder matriarchs. They're not viewed as professionals, just home cooks packaged for television in a way that tugs at viewers' heartstrings. In SFAH's first episode, "Fat," Nosrat makes pesto with an elegant Italian grandmother in her well-appointed villa. She speaks to her in her native language, she listens, and most importantly, she learns.
G/O Media may get a commission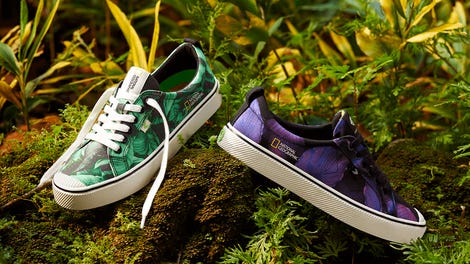 New New New
Cariuma + National Geographic
Visually, SFAH is as much travel show as it is cooking program. There are sweeping shots of the Ligurian countryside and the wide, bountiful aisles of Berkeley Bowl, a natural grocery store in the Bay Area. The food creators who Nosrat chooses to highlight are artisans in their specific fields—while it would be nice to travel to Japan to taste soy sauce straight from the barrel, most viewers at home will have to settle for what their grocery store provides.
The brilliance of the show is due to Nosrat, who falls into a natural role as both teacher and apprentice. She graciously shares her knowledge when it's appropriate, but is more than willing to soak up information she doesn't already have, and she's never boastful. Unlike other examples of the genre, Nosrat enters these spaces not as an interloper, but as someone seeking communion. There's no sense of the parachuting in from abroad with a camera crew and a lot of bluster as seen in Bizarre Foods, a television show helmed by Andrew Zimmern. In the half-hour program, Zimmern pops up in various far-flung locales, eats some food that is "bizarre" to an American palate, and leaves. It's this kind of culinary tourism that Nosrat avoids. She makes no assumptions about any culture and is at ease with the locals she encounters. Even though the big family dinner at the end of each episode is clearly set up by producers to really drive home a sense of community, there's a comfort and an intimacy between Nosrat and her subjects that other shows lack. She's never there to show off what she knows—she would very much like to learn.
If Nosrat created a mold for a new kind of prestige food program, then Vivian Howard, the sweet host of A Chef's Life, on PBS is quietly forging her own path, taking a page from the men who came before her. Howard is a professionally trained chef who gave up her career in New York City to move back to her hometown of Kinston, North Carolina. She and her husband Ben opened a restaurant called The Chef and the Farmer, and somehow along the way, PBS gave them a show.
A Chef's Life, which ended in October, is a portrait of a woman whose reluctance to be a Personality is ultimately part of her charm. The show's structure is similar to SFAH—every week there's a featured ingredient (usually local, definitely in season), and a local townsperson around to help Howard get back to her roots. It's a classic fish-out-of-water narrative, except Howard has returned home after living in the big city—it's not that she's out of place in her hometown, but her palate and the food she cooks is more adventurous than what the residents of Kinston, North Carolina are used to. The show packs the same visual punch as SFAH, as scenes of Howard cooking in her kitchen are interspersed with beautiful b-roll of her walking barefoot through a vegetable patch, picking pole beans and popping them, tender and green, into her mouth. As a viewer, you want Howard's life, and best of all, it doesn't feel quite out of reach.
What differentiates Nosrat and Howard's shows from the men-hosted series is, of course, that they are women and are cleverly using their womanhood to subvert the expectations of what food television can and should be like. Traditionally, women on food TV are chained to a marble island in a large, well-appointed home, cooking a meal for their families in tightly-edited, half-hour bites. Ree Drummond, the Pioneer Woman, cooks enormous steaks and macaroni and cheese for her big rancher husband; Ina Garten selects the finest ingredients to cook for Jeffrey. These women are providing the same sort of communion Nosrat and Howard provides, but are hewing close to traditional expectations of how a woman should be, leaving the rough stuff for the men. Nosrat and Howard free themselves from the kitchen and go out into the world, just like the men would, but are kinder, more compassionate, and much more compelling.