Designer Jean-Paul Gaultier is one of the highlights of Paris Fashion Week: Love him or loathe him, he always gives the fashion folk something to talk about. But, following last night's Fall 2008 presentation, many in attendance had little to say: Gaultier's audience, in fact, was rendered speechless by his gratuitous, almost pornographic use of fur. Fur appeared in nearly every look sent down the runway, and frequently, the heads and tails of the mammals themselves were still attached to the pelts. "I cannot recall the last time I saw so much fur on a runway," wrote the Washington Post's Robin Givhan on her blog this morning. "I couldn't decide if leaving the head on a stole is a form of brutal honesty or just plain creepy. In all truth, I generally like fur as long as it doesn't come from endangered species. But this was fur overload." Said the Telegraph's Hilary Alexander: "[H]eaps of fox-skins dangled from heads and waists and bags, croc-skins were turned into jackets and mink into scarves. At times, there was so much fur on the catwalk it seemed Gaultier was throwing down a deliberate challenge to PETA."
Jen Melocco of Australia's Daily Telegraph points out that, although Gaultier used furs produced from fur farms, he also used faux fur and pelts reworked from old coats, along with "leather and suede printed to look like fur was also used along genuine and fake fox-heads." But Christina Brinkley of the Wall Street Journal seemed downright traumatized by the animals on parade:
With Catherine Deneuve looking shocked in the front row, enfant terrible designer Jean-Paul Gaultier got our attention with fur. Not sanitized mink and fox coats. He gave us visceral fur: a fox coat with two fox heads swinging back and forth on the model's back — noses, eyes, teeth and all... the only thing missing from his show was a live fox prancing down the runway....[The show's] closer: recorded laughter — a huge wicked madman's laugh that followed the models off the runway.
Whether he meant to use fur as a "fuck you" to PETA — Gaultier's Paris boutique, after all, was one of those targeted by PETA's Ingrid Newkirk, as seen in the HBO documentary I Am An Animal — or as "brutal honesty", we do know one thing: The process of how fur gets made is never pretty. A gallery of selected looks, including captions with what we imagine to be Ingrid Newkirk's response to each, below.
G/O Media may get a commission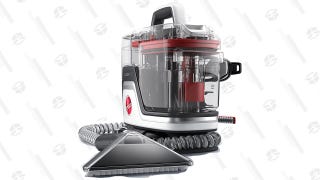 Save $10
Hoover CleanSlate Plus Carpet & Upholstery Cleaner
Off the Runway [Washington Post]
Jean-Paul Gaultier [Telegraph]
Gauliter Gives Paris Visceral Fur [WSJ]
Fur flies at frock shock [The Daily Telegraph]
Earlier: PETA Founder Thinks Fur Is Yucky, Alexander McQueen is "Desperate"
Related: I Am An Animal [HBO]
Inside The Fur Industry: Animal Factories [PETA]