The Nickelodeon Kids' Choice Awards gives celebs the license to be really fun and zany, which means the orange carpet is pretty exciting. It's difficult to go wrong — but some still managed to be fashion don'ts at an event where one of the best dressed women was wearing a green-slime bra.
Katy Perry's neon slime outfit — a reference to the beloved slime that's become synonymous with the awards show — is pitch-perfect for this event, but would be hideous anywhere else.
While I do think that Willow Smith looks extremely cool, it's hard for me to believe that this is the sartorial expression of an 11-year-old and not some expensive stylist.
G/O Media may get a commission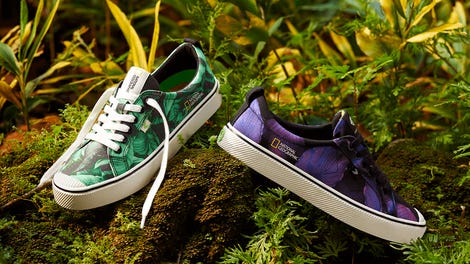 New New New
Cariuma + National Geographic
I know that we're supposed to think that Jada Pinkett Smith is like this super hip mom, but I can't help but think that she's a lot like Amy Poehler's character in Mean Girls. "You kids keep me young!"
While I'm not fond of one-armed dresses, Kelly Osbourne looks pretty cute in her black party dress and hot pink shoes.
The adults: Heidi Klum, First Lady Michelle Obama, and Jennie Garth.
Ana Mulvoy Ten was on trend with her spikes and blue dress.
Actually, blue was by far the most popular color. I don't know if it's because all these girls' stylists told them that it was one of the few colors that wouldn't clash with the orange carpet or what. Anyway, there were a lot of blue sequins: Halston Sage, Jacqueline Emerson, and Gracie Dzienny.
Some of the better blues: Miranda Cosgrove, Kristen Stewart, and Isabelle Fuhrman.
And some of the not-so-good blues: Kelli Goss, Isabella Castillo, and Elizabeth Gillies, who looks a little older than her 18 years in that dress.
Their band name, One Direction, clearly refers to the trajectory of the comb they drag through their hair.
Keeping it light: Selena Gomez, Emma Stone, and Kiernan Shipka.
Rachel Crow, Amandla Stenberg, and Ariel Winter are all really good representations of how 13 and 14-year-olds should be dressing at these things. No stripper shoes, nothing too tight, no signs of cleavage, etc. They manage to have the edginess of a teenager without losing any of the sweetness of their youth, which is a delicate balance.
I've been trying to figure out a way to express how I feel about Molly Quinn's dress but all I keep typing is "ew" so I guess that will have to suffice. Karina Smirnoff looks like she's going out to dinner with her boyfriend's mom for the first time. And then there's Maria Canals-Barrera who looks like she's about to sing for tips in a brandy snifter at on top of a piano.