The concept of "the Final Girl" was conceived by Carol Clover in her 1992 book, Men, Women, and Chainsaws: Gender in the Modern Horror Film. Clover describes the "last girl standing" in horror movies as sharing similar characteristics such as being virginal and having a gender-neutral name, examples of whom include Sidney Prescott in Scream and Laurie Strode in the Halloween films. In director Todd Strauss-Schulson's meta horror-comedy, The Final Girls, though, he counters Clover's theory through a fun lens that spoofs the typical scary movie cliches.
I am a fan of all things scary and am currently working my way through a meticulously planned, horror-film viewing schedule in celebration of this spooktacular month—but the truth is, they also scare me and stress me out. The Final Girls, which had a good dose of humor and heartwarming moments along with thrills, ended up being a nice break from all the gory torture I've been subjecting myself to.
The movie begins with teenager Max (Taissa Farmiga) waiting for her mother Amanda (Malin Akerman) to finish with an audition. Amanda is a struggling actress best known for her role as Nancy in a Friday the 13th-style, '80s slasher flick called "Camp Bloodbath." The two drive off, sharing a sweet mother-daughter moment in which they loudly sing Kim Carnes' "Bette Davis Eyes," when Amanda suddenly loses control of the car and dies in the accident.
Three years later, Max is a high school senior and still recovering from the death of her mother. She keeps close with her best friend Gertie (Alia Shawkat) and has study dates with blonde hunk Chris (Alexander Ludwig). When Gertie's step-brother Duncan (Thomas Middleditch) asks Max to attend a screening of "grandaddy of all slasher flicks" Camp Bloodbath, she is reluctant, then caves in when he promises to write her essays for a class she's failing.
Max and her friends arrive at the screening, as well as Chris's ex Vicki (Nina Dobrev), who is also a former friend of Max's. The movie begins and shortly after, a fire erupts in the theater. In the panic, someone's machete falls to the floor. Max picks it up and slices the film screen so she and her friends can escape the fire through a back door.
G/O Media may get a commission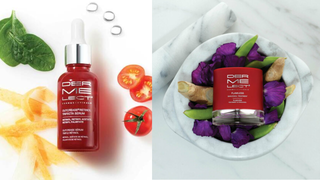 Save $19
Retinol Renewal Kit
Instead, they find themselves in the woods. A yellow Volkswagen van drives up with Camp Bloodbath's characters inside. The hypersexed Tina (Angela Trimbur) and equally sex-obsessed Kurt (Adam DeVine) ask the gang if they know the way to camp. Shocked, confused and thinking it's all some kind of strange dream, they realize they're actually in the movie when the van comes around again every 92 minutes, replaying the same scene over and over. Eventually, they hitch a ride to the camp and Max reunites with her mother, but in the form of her fictional Camp Bloodbath character.
Using "Bathematician" Duncan's expert knowledge of the film, the gang theorizes they must stick with Paula (Chloe Bridges), the movie's final girl, in order to survive. When she's killed early on, they conceive a plan to beat the killer, which will hopefully get them out of the movie and back to reality. Anybody acting sexy will attract the killer—whose presence comes with a warning in the form of a spooky film score—so Tina is constantly advised to keep her clothes on.
While the film has a self-awareness that borrows from Scream and elements that bring Cabin in the Woods to mind, it isn't particularly terrifying. The scares come from not knowing whether Max and her friends will make it out of this alternate dimension. Instead, we witness a slew of emotional moments between the grieving Max and the Nancy character she believes is her actual mom. In American Horror Story: Murder House, Farmiga perfectly executed these juxtaposing emotions of petrifying fear and desperate grief, and she does it here again in Final Girls. (The AHS seasons she appeared in were the best ones.)
Then there's the humor, which comes mostly from the convergence of the '80s lifestyle and 2015 technology (there are jokes about Adderall and iPhones). Workaholics' DeVine steals scenes as a camper so eternally horny, he manages to throw out a cheesy pick-up line even during life and death moments. Trimbur has a hilarious scene in which she performs a sexy striptease to lure the killer and Middleditch plays a convincing horror fanboy with some physical comedy thrown in.
The script was written by M.A. Fortin and Joshua John Miller, who previously collaborated together on Rose McGowan's directorial debut, Dawn. Miller is also famous for his role as the obnoxious little brother in Teen Witch as well as the Kathryn Bigelow vampire film, Near Dark. He may have also lent his real-life experiences as a descendant of horror movie veterans to the character of Max. His father, Jason Miller, played a priest in The Exorcist, while his mother, Susan Bernard, was in a B-horror flick called Necromancy. The Lost Boys' Jason Patric is his half-brother.
There are some logic holes and unexplained paradoxes, but ultimately, The Final Girls is a cleverly-written, entertaining flick with a dynamic cast. It brings up what horror movie fans love about the genre while also making them question whether or not they'd survive in one of their favorite movies themselves. Personally, I wouldn't last that long. I can't run that fast and am way too horny to survive as a Final Girl.
---
Contact the author at marie.lodi@jezebel.com.
Image via Sony.