More than 10 million copies of Fifty Shades of Grey have been sold in the past six weeks, a rate its publisher says is "unprecedented" and expects to continue "exceeding even our most optimistic forecasts." Sales even jumped the week before Mother's Day, meaning women didn't put aside their hunger for Twilight-meets-bondage romance even to buy flowers for their mothers. (Or maybe they bought copies for their mothers, which would be weird.)
Point is, it doesn't look like this book is going anywhere. Which is a problem for libraries that are now struggling to keep up with the demand for lines like, "he's my own Christian Grey flavor popsicle." Some libraries are reporting thousands, literally thousands, of holds for Fifty Shades of Grey, a velocity that's convincing even conservative libraries that it's important to carry the book. "This is the Lady Chatterley's Lover of 2012," Tim Cole, the collections manager for the Greensboro Public Library in North Carolina, told the New York Times. "Demand is a big issue with us, because we want to be able to provide popular best-selling material to our patrons."
Of course, it wouldn't be the U.S. without some puritanical dissent. A good number of libraries are refusing to order the books, saying that they "violated its no-erotica policy" or "did not meet the standards of the community." The National Coalition Against Censorship's executive director, Joan Bertin, said it was "egregious" for a library to remove a book from its adult section. "There are some possible arguments for trying to keep kids away from certain kinds of content, but in the case of adults, other than the restrictions on obscenity and child pornography, there's simply no excuse," she said. The Coalition also responded to one county in a harsh letter:
"There is no rational basis to provide access to erotic novels like these, and at the same time exclude contemporary fiction with similar content. The very act of rejecting erotica as a category suitable for public libraries sends an unmistakable message of condemnation that is moralistic in tone, and totally inappropriate in a public institution dedicated to serving the needs and interests of all members of the community."
G/O Media may get a commission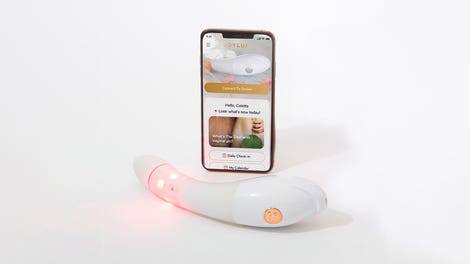 $50 Off
Joylux vFit Gold Device
At this point, anyone who thinks they can stop Fifty Shades of Grey from taking over the world is delusional. Just sit back, relax, and think of ways you can profit from the hype. Serve "Christian Grey Goose" specials at your bar! Advertise Fifty Shades promos at your salon! We can all benefit from this if we try hard enough.
10 Million Shades of Green: Erotic Trilogy Dominates Book Sales [NYT]
Libraries Debate Stocking 'Fifty Shades of Grey' Trilogy [NYT]