A Catholic priest who regularly conducted exorcisms and said gay marriage would end human civilization has explained why he no longer heads a major anti-choice group: He had an affair with a woman. But, he says, she's an adult!
Ana Gasteyer Satirizes the Girl Boss in 'American Auto'
The author of Exorcism and the Church Militant Thomas Euteneuer quit his post as head of Human Life International last August. Since then, apparently, the evil Internet has spread rumors about the reason for his departure. (You can read more about them here). Lucky for us, he summarizes them in the statement he recently released about how he made "imprudent decisions with harmful consequences, the worst of which was violating the boundaries of chastity with an adult female who was under my spiritual care." He writes:
* My violations of chastity were limited to one person only, an adult woman;
* The violations of chastity happened due to human weakness but did not involve the sexual act;
* The accusation that I "targeted" vulnerable women or otherwise sought them out for spiritual direction is utterly false and a serious defamation of my character and ministry;
* With rare exceptions, my exorcism/prayer ministry was always conducted with prayer helpers (third parties) present; situations where prayer or pastoral care occurred without helpers present were exceptional situations where I believed it was necessary for me to act quickly in order to help the afflicted person; while not proper protocol, these departures from the norm were never done with a motive to be alone with vulnerable women;
* I repudiate any allegations of financial impropriety in conducting my prayer/exorcism ministry; I never, under any circumstances, solicited money for the ministry other than travel-related reimbursements, nor did I use HLI donor funds to carry out this work; any gifts offered to me were unsolicited and only accepted so as not to offend the giver and in most cases immediately given to those more needy than myself;
* I have no knowledge of any persons who received any financial settlement in this matter, nor have I asked for that to be given.
It could have been so much worse! On the scale hypocrisy by people seeking to regulate other people's sexuality, this gentlemen registers quite low, at least by his own account.
Highlights of Euteneuer's career included direly warning that gay marriage would make our civilization go the way of Ancient Greece, and making fighting contraception an actual point of action. Here he is in 2008 being far more honest about the far-right's intentions for Planned Parenthood:
"It's time to get serious about denying Planned Parenthood funding for birth control or sex education and abortion. We need to hold them accountable for this contraceptive welfare. We have to work very carefully to keep that sword away from Planned Parenthood."

Euteneuer believes a single argument holds the greatest potential for changing how the anti-abortion community thinks about birth control. "Chemical contraception doesn't prevent abortions, it causes abortion," he said in an interview. "If we believe life begins at the moment of conception, we have to defend it against [this] chemical attack." Euteneuer was referring to the possibility that hormonal birth control, including the pill, the patch, injections and some IUDs, might prevent a fertilized egg from implanting in a womb. Scientific evidence suggests that this occurs infrequently, if at all, and that birth control works primarily by preventing a woman from ovulating.
G/O Media may get a commission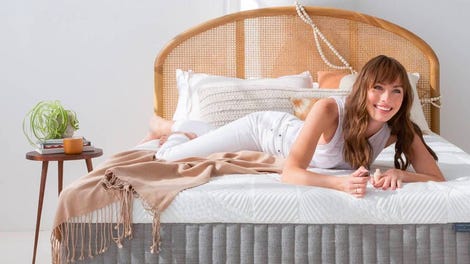 Sleep Sale
Sleep Sale - Brentwood Home
Also: Making Sean Hannity look good. I repeat: Making Sean Hannity look good for supporting contraception and pointing out the way the Catholic church covered up the priest abuse scandals. "Would you not rather they use birth control rather than have an abortion?" He replied, "I want people to use self-control." Later, Hannity demands to know whether he's without sin.
The answer is: Nope!
Statement Of Fr. Thomas Euteneur Setting The Record Straight [LifeSite News]
Related: Thomas Euteneuer [Right Wing Watch]
Controversy Erupts Over HLI's Former Chief Priest