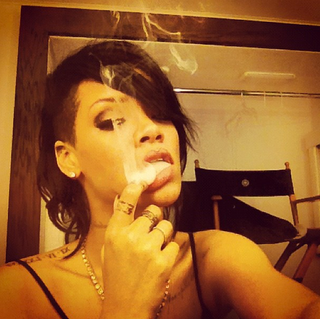 Rihanna is set to drop a $250 limited edition version of her album, Unapologetic, on December 11th. The exclusive Diamonds Executive Platinum Box will include collectible colored "Diamonds" vinyl remixes, an 11 x 17 handwritten personal note from Rihanna to her "Navy," a 2GB credit-card styleUSB flash drive, a unisex T-shirt featuring a Michael Muller photo of Rihanna, and a shitload of photos, lithographs and stickers for the various electronics that fans may need to pawn in order to afford this exclusive album. Those purchasing will also receive a 40-page notebook with handwritten notes and lyrics, a deluxe version of the album with a 28-page photo and art booklet and a DVD featuring unreleased footage from Rihanna's Loud Tour. Oh, and an exclusive fan poster. Do not forget the fan poster.
Not willing to forfeit this month's car insurance payment for a T-Shirt, a CD and assorted prints of Rihanna's face? Don't you fret: A cubic zirconia version of the album, the "Diamonds Deluxe Edition Box", will be available on November 19th and cost a measly $79. It'll include the T-Shirt, stickers, DVD and what is described as a "limited edition genuine, conflict-free diamond bracelet" complete with a black leather band, a brass disc and a 1pt diamond.
So, while it's insane to spend $250 for an album, remixed versions of the same song, and a box filled with stickers, we should be glad that we have not yet been subjected to what would surely be Kanye's $4,000 version of the same promotion, including his sex tape, an ugly fuzzy shirt, and an auto-tuned autobiography audio book. Shudder.
Image via Instagram.