An attorney for the U.S. government told a federal court on Friday that over 100,000 people had their visas revoked after the White House banned travel from seven majority-Muslim countries, NBC News reports.
From NBC:
"The number 100,000 really sucked the air out of my lungs," said Simon Sandoval-Moshenberg of the Legal Aid Justice Center, who represents two brothers from Yemen who were detained after arriving at Dulles Airport on Saturday and filed the original lawsuit that Virginia just joined.

Attorney Erez Reuveni, from the DOJ's Office of Immigration Litigation, announced the staggering number after Judge Leonie Brinkema pressed for the number of people who were detained and sent back from airports.
When questioned about this extremely high number at a press conference on Friday afternoon, press secretary Sean Spicer replied: "I'll have to get back to you on that. I don't have all the details right now."
G/O Media may get a commission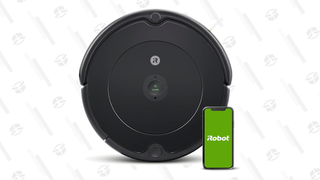 35% Off Black Friday Deal
iRobot Roomba 694 Robot Vacuum
The visas, it should be noted, were revoked without any notice given to the visa holders.
NBC reports that the State Department disputed the 100,000 figure, putting it closer to 60,000—which, if true, is still an unfathomably huge number of legal U.S. residents to try and kick out of the country for no reason.
"Fewer than 60,000 individuals' visas were provisionally revoked to comply with the Executive Order," said William Cocks of the State Department Bureau of Consular Affairs in an email to NBC News. "We recognize that those individuals are temporarily inconvenienced while we conduct our review under the Executive Order. To put that number in context, we issued over 11 million immigrant and non-immigrant visas in fiscal year 2015. As always, national security is our top priority when issuing visas."
The Washington Post reports that the Aziz brothers and other plaintiffs in lawsuits around the country are being offered new visas in exchange for dropping their suits. "While I am pleased that they are willing to whisk people back if they come to our attention, they won't come to our attention if we don't know who they are," Virginia Solicitor General Stuart Raphael told the Post.
On Friday, Judge Leonie Brinkema of the Eastern District of Virginia ordered the Trump administration to provide a list of all Virginia residents "denied entry to or removed from the United States" because of the order. Their deadline is February 9, although thus far the Trump administration seems to have interpreted court orders as more of a light suggestion.
"It's quite clear that not all the thought went into it that should have gone into it," Judge Brinkema told the Post. "There has been chaos... without any kind of actual hard evidence that there is a need" to revoke these visas.