When we're flipping through old magazines in thirty years, bemused by the dated art direction and the ridiculous clothing, some whippersnapper will doubtless point at an editorial and ask, "Who's that?" Chances are it'll be one of these ladies.
The modeling industry went through a variety of dramatic changes during the last decade. It was in these years that two relatively economically underdeveloped regions — South America and the former Eastern Bloc — supplanted the West as the industry's main source of tall, skinny 16-year-olds. (And the skinny 16-year-olds became skinnier 14-year-olds.) Lots of stuff happened: models died. The industry hesitantly considered self-regulation. There was a recession that decimated the luxury sector.
Who were the faces that cropped up during these tumultuous years and stood out from the crowd? Think of the Brazilian bombshells who stomped into prominence on the runways of Versace in the late '90s and held sway over the industry for the first few years of the decade that is now coming to a close. Remember the post-9/11 mini-vogue for "intellectual"-looking Belgians? (Though some — An Oost — have been unfortunately largely forgotten, others — Hannelore Knuts — still work regularly.) The doll-like models of the mid-2000s (hello Gemma, hello Lily!) The Russians who gained prominence during the last years of the decade. Who will be remembered as the faces of the 2000s? Our money's on these ladies.
Gisele Bündchen
There's a strong case for calling Gisele the face of the decade. Although she technically rose to fame at the very end of the 1990s — she was Vogue/VH1 Model of the Year for 1999, and nabbed the November 1999, December 1999, and January 2000 covers of American Vogue in a rare hat-trick — Gisele has continued to dominate the entire fashion spectrum. Claudia Schiffer called her the only true modern supermodel. Gisele is a category-killer, pulling off high-fashion editorial work, commercial gigs, Victoria's Secret, and campaigns for Dior and Versace, with equal aplomb. (She is also one of the only contemporary models to have gained any kind of tabloid notoriety, which celebrity ironically makes her a more likely cover choice for fashion magazines, now that they don't put mere models on their covers.) Through every change in style, Gisele has remained on top. She goes by one name. She is the highest-earning model in the world. She has a line of sandals in her native Brazil. Her work ethic is highly praised, and an economist even made a Gisele Index to mathematically prove that companies that hire her make money. It outperformed the Dow! Other models should probably just give up now.
G/O Media may get a commission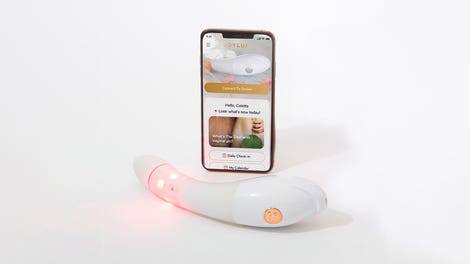 $50 Off
Joylux vFit Gold Device
Crossover Stars Heidi Klum And Tyra Banks
Karl Lagerfeld may not know who Heidi Klum is, but millions of Americans do, thanks to Project Runway. Although Klum and Banks were both well-known models in the mid-to-late 1990s, thanks especially to their respective work for that august periodical, the Sports Illustrated Swimsuit Edition, it was in the 2000s that their careers kicked into overdrive. In 2003, Tyra Banks debuted a little reality-television show called America's Next Top Model, and even if it was a little short on the reality, it certainly made great television. She parlayed it into her own talk show, a New York Times Magazine cover story, and continued to make occasional appearances in magazine editorials. Klum became the host and executive producer of Project Runway in 2004, and thus introduced the world to the magnificence that is Tim Gunn, and her own adenoidal catchphrase, Auf Weidersehen. Klum maintained her Victoria's Secret contract, and is currently the face of a rejuvenated Ann Taylor. Maybe these women recognized that modeling, qua modeling, was mostly a losing game in the oughts; maybe they knew their careers were dwindling into catalog obscurity anyway. Either way, they went and did their own thing, and are now more recognizable than ever.
Natalia Vodianova
After the Brazilians, came the Russians. And no Russian was more successful than Natalia Vodianova. A favorite of Calvin Klein, she walked every runway and cleaned up on the campaign circuit, starting in about 2004. With her spooky, wide-set eyes and thick hair, she could look alternately romantic and hard-edged. Unashamed of her impoverished background — she worked at a fruit stand before starting modeling in her early teens — she is an active philanthropist in her native Russia. Also she sometimes talks about how it's not a good idea to expect models to be so thin that they can develop disordered eating habits. We pretty much love her for that.
Gemma Ward
Gemma Ward had basically done it in fashion all by the time she was 19. After debuting as a runway exclusive for Prada, Ward saw covers, editorial work with Mario Testino (this shot comes from a Vogue Paris shoot with the photographer), Steven Meisel, and Patrick Demarchelier, and campaigns for brands like Burberry, Roberto Cavalli, and Dior all came her way. All told, she was on more than 30 different covers of Vogue around the world, including the debut issues of Vogue China and Vogue India. Her uniquely beautiful features commonly earned comparisons to those of a baby doll, and Ward originated the vogue for eery-looking, wide-eyed, pale girls, like Heather Marks and Vlada Roslyakova. Then, suddenly, in 2008, she took a break from modeling. She filled her time by taking a supporting role in the Australian film The Black Balloon, for which she was nominated for a Film Critics Circle of Australia Award in the category of Best Actress. She most recently popped into the news to quash — for a second time — rumors of her retirement; she says she'll return to modeling in 2010. Perhaps she can be a face of the next decade, too.
Liya Kebede
Liya Kebede burst onto the scene in 2002, when the then-largely-unknown was featured on the cover of Vogue Paris. And this Ethiopian model has continually been featured in editorials and campaigns during a decade that will probably go down in the fashion history books as one of the least diverse. (Kebede was the only black model before the fold on Vogue's supermodels cover from earlier this year.) She's been the face of brands from Estée Lauder to Tiffany's to Louis Vuitton (pictured), advocates for maternal health in the developing world, and has her own children's clothing line, which is entirely handmade in Ethiopia.
Daria Werbowy
With her cat eyes and multi-faceted nose, Polish-born, Canadian-bred Werbowy so captivated Steven Meisel that he put her on the cover of Vogue Italia twice in a row in 2003 (this is the first one). Plenty more work followed, including campaigns for Prada, Gucci, and Chanel, and a multi-year contract with Lancôme. She also is one of the bevy of supermodels who do ads for the jeweler David Yurman. Most recently, Werbowy motivated countless women to buy insanely colorful Matthew Williamson for H&M summer duds by merely glancing in Solve Sundsbo's direction.
Agyness Deyn
For a while in 2007, this girl's mug was inescapable. It seemed that Deyn — born Laura Hollins, some five years earlier than her agency had initially claimed — was in every editorial, on every billboard, and on every runway. With her highly recognizable haircut and signature mouth-agape look, she could radiate innocence or sex. Given she had oodles of style — or at least, a willingness to dress in really ridiculously 80s outfits in public — the obvious move would have been for her to transition from modeling into being a designer's long-term muse, a stylist, or to get a clothing line. Instead, she dabbled in music, did ads for Uniqlo, and dyed her hair black. Whether or not she makes a comeback, she's still got that 2000s look — po-mo anti-historical Salvation Army hipster — to a T. Her pictures will instantly conjure the period.
Coco Rocha
One of our all-time favorite model bloggers, the Canadian Rocha has been heavily featured in editorials and advertising for companies including Dior and Yves Saint Laurent since about 2006, and once did a jig on Jean-Paul Gaultier's runway. A favorite of Grace Coddington at American Vogue, she also dyed her hair red at the request of Steven Meisel himself. Rocha, who worked for several long years in secondary markets before making it big, is also one of the few models willing, like Natalia Vodianova, to talk about the industry's pressures regarding weight. (She herself has used diuretics to stay thin in the past.) Rocha practically has a patent on the open-mouthed, furrowed-brow, angry-cute expression we've seen so much of over the past few years.
Lakshmi Menon
When we first saw this woman's pictures, in 2008, we swooned. Menon worked in India for years to put herself through school while studying economics, and then hit the international circuit to do the occasional job for, well, Jean-Paul Gaultier, Alexander Wang, Stella McCartney, Givenchy, MaxMara, and H&M. At 27, practically elderly by the ridiculous standards of the industry, she became the face of Hermès and took pictures with an elephant. She even hammed it up for American Vogue, and all the while her unique look quietly worked its way into fashion's mainstream.
Lara Stone
A Bardot-ish blonde with gappy teeth, and features that can seem alternately androgynous and hyper-sexual, Lara Stone is a true model oddity. Cathy Horyn once compared her walk to Lurch's. We would love to disqualify her from this list for being in that God-awful blackface shoot, but the woman grabbed dozens of campaigns, a cover of British Vogue, two covers of Vogue Paris, and one group cover of American Vogue this year alone. Whether she's doing cannibal-zombie editorials or joking about pushing girls down the stairs, people seem to be fascinated.

Karlie Kloss
Karlie Kloss almost didn't make this list, because a lot of her work is very recent. After debuting as a runway exclusive for Calvin Klein and then Gucci in September of 2007, her breakout season was February of 2008, when the then-15-year-old walked for an astounding 66 designers in three cities. But editorial and campaign work, especially in the U.S., was a little bit slower in coming. No longer: Seems like someone up and became Anna Wintour's favorite. This year, Kloss racked up more international Vogue pages and covers than any other model, and she has been featured in some 23 editorials in American Vogue since first appearing in its pages this February. Add campaigns for Alexander McQueen and a Marc Jacobs perfume to the mix, and we can expect to see lots more of this 6' girl with the unusual eyebrows in the next decade.