In the spirit of holiday house-cleaning, it's time for a crash course in comments etiquette. What can you do? What should you never do? Some answers, after the jump.
The commenters on Gawker Media's stable of properties are known for their smarts, savvy, wit, breadth of knowledge and curiosity, but great online communities always need a set of rules and regulations to keep the discourse high and humming along.
If you're a relatively new reader to Jezebel: Welcome! We're thrilled to have you. As you may have figured out, commenting privileges on the site are not open to everyone, which means that we are able to maintain a higher caliber of contributions than those found on other, open and unmoderated websites. Want to become a commenter? You'll need to audition (a how-to here.) In addition, you'll probably want to take a look at our commenting policies, where are outlined here, here, here, here and here. (Lifehacker's old, but still good, post on how to comment on weblogs is also worth a look.)
Whether you're a brand-new reader or a commenting veteran, we ask that you take time to craft your comments, and that includes close attention to spelling, grammar, capitalization and punctuation: these basic requirements go a long way towards making us all look better. Make friends with your 'Shift' key. (Did you notice a mistake in your comment? Just click on the pencil icon next to your published comment and you will be given the opportunity to make edits.) Another good rule of thumb when commenting is to stay on-topic - editors and moderators may caution readers when a thread has gone off-topic - or to take your off-topic contributions to our vibrant reader forum, #groupthink, which we will discuss in more detail in a separate post later today. Notice a spelling or other sort of error in a post? Leaving this information in the comment of the post is strongly discouraged: editors do not always have the time to read the comments on their posts thoroughly so please, take a minute to email the editor in question or send the entire staff a heads-up by contacting us at tips@jezebel.com.
G/O Media may get a commission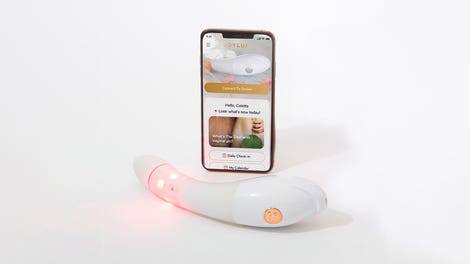 $50 Off
Joylux vFit Gold Device
Many readers have already discovered how to make their voices really stand out via our #tips page, where you can share breaking news and tips, links of interest, timely video, or anything and everything else you think might be useful to Jezebel editors. (If you need a primer on how to use our hashtag system, go here.) Plus, if you give us some substantive explanation as to why we should follow up on your tip, your contribution might be promoted or featured on the front page. At #tips, quality contributors have the spotlight.
As always, when commenting on Jezebel, keep in mind that personal attacks, inappropriate behavior and off-topic rants are subject to bans, disemvoweling and deletion. Courtesy is of utmost importance: There are real people involved here, both on the front-end (writers/editors) and the back (commenters); ignore or disrespect this fact at your peril. (Starred commenters should be aware that their privileges are not guaranteed, which means they should be careful in the comments they approve and promote: do not feed the trolls! If you're an unstarred commenter, don't despair: there's an army of us on the lookout for the best and the brightest contributions.) We want the community to be the best it can be.
Questions? Leave them in the comments or email our beloved moderator, Hortense, at commenters@jezebel.com.
Earlier: Our New Look: Let Your Fingers Do The Talking
Extreme Makeovers: Update Edition
The Girl's Guide To Commenting On Jezebel: Version 1.2
A Message From Hortense, Our Commenter Moderator
The Girl's Guide To Commenting On Jezebel
Comment FAQ
Related: Geek To Live: Lifehacker's Guide To Weblog Comments [Lifehacker]