The Met's much-hyped "Model as Muse" exhibit opens with a life-sized mannequin in Dior holding Dovima's place in front of two posterboard elephants. It's fashion as ticky-tacky natural history diorama. And it only gets worse.
I so wanted to love this exhibit. I'll admit that bias right from the start. I know first-hand what goes into a shoot, and the crucial animating energy of modeling — the performance that is part mute, still-frame acting, part own-stunt cojones (who do you think climbs South American rock faces without ropes, in couture? Lily Donaldson's double?), part pure, inexplicable presence — and I feel, frankly, that our contributions to the fashion industry and the discourse of images that the industry uses to represent itself to the world are often underreported and undersold. Getting up in the morning and transforming, convincingly, into the apotheosis of a photographer, designer, and stylist's only partly shared creative vision isn't easy.
And just now, after season upon season of most designers choosing to make their models look as inconspicuous, anonymous, and blandly interchangeable as possible on the runway and in advertising, after years in which the model has shrunk before our very eyes, the culture seems ripe for some kind of redress: a resurgence of individuality, a reassertion of personality. A return to the days when the casual fashionista — as opposed to only the dedicated indexer of Internet-derived fashion arcana — could at least tell us all apart. The theme of the Metropolitan Museum of Art Costume Institute's brand-new and infinitely hyped "Model as Muse" exhibit, with its privileged understanding of the lowly clotheshorse's role in advancing fashion, seemed to promise a move in that direction.
What a terrible disappointment, then, to walk through the Tisch gallery on opening day and find an exhibit that was seemingly laid out with the goal of inspiring the utmost tedium in the viewer. I should have known as soon as I passed that terrible bit of tat with creepy Robo-Dovima in the entryway: the first corridor of photographs is lit with softboxes suspended from the ceiling. Softboxes. Photographic equipment illuminating exemplars of fashion photography! The single-entendre curation never lets up; the viewer is also subjected to such cheesy gestures as stepping literally through a velvet rope in order to enter the 1970s gallery. (Done up, naturally, to look like the basement of Studio 54, complete with unlit cigarettes.) It is difficult to concentrate on the beauty that surrounds when your ears are being assaulted with Alicia Bridges' "I Love The Nightlife" and your eyes with a tawdry-looking spread of yet more blank-faced mannequins, all decked out in truly atrocious wigs by fashion hairstylist Julien d'Ys.
I suspect even the curators, led by Costume Institute head Harold Koda, found their vision a little less than compelling: the exhibit often seems like the product of minds that occasionally wandered. In the wall copy, I spied the former model Anjelica Huston's name mis-spelled with a 'g', and I read twice within 30 seconds the phrase "attenuated limbs." (British model Karen Elson, in the 90s room, has "elegantly attenuated limbs," while American Stephanie Seymour, who closes out the 80s gallery, has "gracefully attenuated limbs.")
G/O Media may get a commission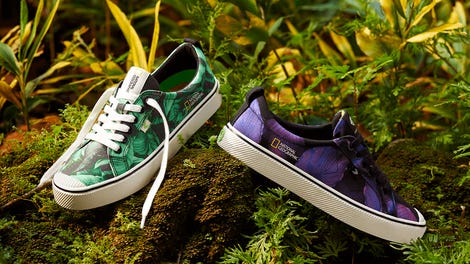 New New New
Cariuma + National Geographic

This Avedon photo of Lauren Hutton is what every American Apparel ad wants to be. And never will.
The exhibit proceeds dully, chronologically, through roughly the past 60 years of fashion history. The galleries dealing with each decade are separated by lines as clear as they are arbitrary; the Fifties, you see, was the decade of the Continent and Dior and Balenciaga, but then once the clock struck 12:01 on January 1, 1960, nobody made couture anymore, and Rudi Gernreich immediately put the obliging Peggy Moffitt in his monokini. Cue mod! (Cue the Who! On repeat!)

Veruschka, shot here for the August, 1968, issue of French Vogue by her then-lover, Franco Rubartelli, played a role in her shoots that today would be highly unusual for a model. She had significant input into, or sometimes even sole control, of the styling, the makeup, and the hair, and the images produced were generally collaborations between herself and the photographer.
It's hard to screw up showing quality fashion photography, framed on a wall. (Even the various viewer-insulting "contextual" gestures, like blaring pop music and the intrusive graffiti in the 90s room — perpetrated by hairdresser d'Ys, at Anna Wintour's instruction, which goes to show just how much control the noted museum patron has over the arts on display — do not entirely manage to quash the timeless beauty of, for example, Irving Penn's June 1950 Vogue cover shot of Jean Patchett. The presentation of the artifacts on the walls is fine. What I am still unclear about is the value of seeing the mannequin'd tableaux-morts featuring the actual designer clothes; if the point of this show is to celebrate models and their animating contributions to fashion and fashion photography, then, after seeing Veruschka in Yves Saint Laurent's safari collection, or Bert Stern's astonishing studio shot of Twiggy in the same designer's beaded midriff-dress, what end is served by seeing these same garments presented in dim exhibition suites, too far away to make out any detail of stitching or cut, on lifeless dummies that bear no resemblance to the women who once illuminated their beauty as articles of clothing? The safari dress as it hangs in the show isn't even styled properly. It lacks, in addition to Veruschka's firepower, its ring belt.

Even back in 1967, sample shoes didn't fit. Twiggy poses here, on her first trip to the U.S., for Vogue photographer Bert Stern.
If "Model as Muse" serves any useful purpose, it is to remind the viewer of fashion's headwaters, and of just how derivative fashion photography has become. In the first hall of the exhibit is Richard Avedon's iconic image of Sunny Harnett at the roulette table; in the last, is Stephen Meisel's 1998 version, with Carolyn Murphy. The elements are so much the same — blonde, cream dress, tuxedo'd gent, roulette — that the latter scrambles to rise to meet the criteria of "homage."

Sunny Harnett by Richard Avedon, for U.S. Harper's Bazaar, September, 1954.
In the 1960s suite, somewhere under the blaring of "My Generation" and the projected Qui Etes-Vous, Polly Magoo clip on repeat that overwhelms the room, there's a single page from the September, 1965 Harper's Bazaar.

Jean Shrimpton, by Richard Avedon.
It served to remind me of nothing so much as this Patrick Demarchelier image from last September's Vogue.

Catherine McNeil, by Patrick Demarchelier.
A picture of Lisa Taylor wearing Calvin Klein, by Helmut Newton for the May, 1975 issue of Vogue, hangs in the 1970s hall, near some mealy wall copy about 1970s gender roles. (A subject which any viewer would learn more about simply by pondering the viewer-viewed dynamic here between the languid, powerful-looking Taylor and the foregrounded male model, whose ass looks so unusually objectified.)

Lisa Taylor, by Helmut Newton.
Of course, as commenter LittleNemo pointed out last year when I posted a spread, Glen Luchford's September, 2008, Harper's Bazaar photo of Freja Beha Erichsen owes a debt to Newton.

Freja Beha Erichsen, by Glen Luchford.
This Demarchelier and the Luchford were not in the Met's show — the post-grunge years seem to be a curatorial afterthought, as they are represented in main by two outfits from a recent Louis Vuitton collection by principal exhibit sponsor Marc Jacobs and a bunch of pictures of Gisele Bundchen. But, whether all these archetypal images' latter-day derivations are physically present or not, you can only wander through these corridors for a matter of seconds before phrases like "anxiety of influence" come irrepressibly to mind.
It is, I am sure, not the reaction Koda, Wintour, Jacobs, and d'Ys would want. But these eminent lightweights, with their spraycans, their predilection for references to fictional movies about the industry, their ugly wigs and their uglier Nirvana soundtrack, their mis-spellings and their children's book fashion history — not to mention their craven elision of designer Azzedine Alaïa — did more than enough to earn it.
Perhaps someday a museum will be equal to mounting an intelligent investigation of the changing roles of fashion models, and fashion photography's relationship to the wider culture — its uneasily shifting placement on the continuum between high art and low commerce, between editorial content in magazines and clothes and makeup as we do them in everyday life. Perhaps someday, we'll see the model as muse. But that museum is not the Met, and that exhibition is not yet come.
The Model As Muse [Metropolitan Museum of Art]
Related: Alaïa Pulls His Dresses From The Met Gala [On The Runway]
Model As Veteran [NY Times]