Kit Naylor says she's "55 years old, a spinster long past my sell-by date, no kids — and I haven't had sex in a decade and a half." In her article on Salon, she writes that she could probably score some casual sex, but she wants to be in love — and historically, she's fallen in love with unavailable men. So for the past 15 years, she's enjoyed the single, sexless life: "the toilet seat is always down, and I control the TV remote" and "the cats don't criticize." But even as she lists the virtues of celibacy, she makes it disturbingly clear that it's not really her choice.
She writes:

I suppose I could Internet date, but the very idea exhausts me. It feels like applying for a job I'm not sure I want. And it's so unfair, so hopelessly based on superficial things that I could weep. Cruise the online personals — just scan the 40- and 50-something entries — and you'll see that even men built like Danny DeVito demand youth and beauty. They say they're seeking "slender" or "slim" women at least 10 years their junior. Do I really need to pay a monthly fee for this sort of rejection?
And of her last love, she says:

[H]e eventually married a woman some 15 years his junior. I went to their wedding. She is lovely, but they divorced within a couple of years. "She has no sense of humor," he complained. "She's so earnest about her career, and she's not all that enthusiastic in the sack."

"Well, what did you expect?" I asked him when he called to tell me they were through.

"I expected somebody like you, only younger," he admitted. We haven't spoken since.
G/O Media may get a commission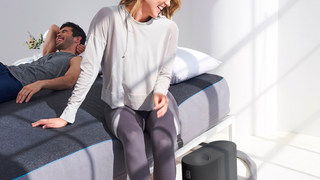 Eight Sleep Pod Cover
Has Internet dating further calcified male demands, creating a marketplace where only young, thin women need apply? Naylor acknowledges that's not the whole story: "plenty of zaftig women have husbands and lovers who adore them." So does Naylor's penchant for unavailable men predispose her to the kind of douches who find what they want, then look for a younger model, then act shocked when she's not what they were shopping for? Sure, that guy's divorced now, but he's not writing articles about his "sell-by date" and his cats.
Of course it's possible to have mixed feelings about being alone, to relish your independence while sometimes craving for companionship. But I still wish Naylor came off as less of a sad sack and more of a proud spinster. Or more accurately, I wish a woman could live alone with her cats and her TV remote and her "discreet" vibrator without feeling like a reject. Is that too much to ask?
15 Years Without Knocking Boots [Salon]
Earlier: Old Maids And Spinsters: The Best Female Role Models A Teen Girl Can Have