A few months ago, in an exhaustive feat of research, we found the worst outfit in the International Male catalog. And then, over the weekend: A flea market find! Issues of International Male from Summer 1986. Rayon! Army shorts! Faux eyeglasses! Underwear! The best — meaning worst — of the pages, after the jump.
Did you know that Rayon was the season's most important fabric in the summer of 1986? Did you know that her peculiar, unfortunate shirt was called an "angel top"? Well, now you do. International Male does God's work.
---
G/O Media may get a commission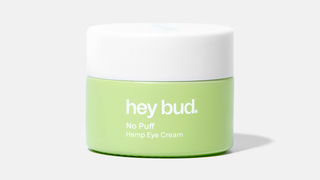 15% off
Hey Bud - No Puff Hemp Eye Cream
The beefy, blond Aryan type loses his appeal when he's in pseudo-military gear, in my opinion. It takes me back to when, as a wee lass, I found out Rolfe was a Nazi in the Sound Of Music. Sniff.
---
"It's a natural! Just as natural as what my hand is doing in my pocket right now. It must be natural — it feels so good!"
---
Which would you rather find out the man in your life wears: The supertrimmer? Or Le Masque? Think carefully.
---
Oooh, "classics"! Denim short-shorts, camo bikini undies, chest-hair revealing tank tops and "Foreign Legion" brozner. Collect 'em all!
---
The Key Largo shirt is mildly horrifying. The peach canvas suit is Miami Nice. But let's focus on the Dickens Glasses, shall we? Because it is taking all my power not to make a joke like, "They're called that because you wear them when you want to get a dick in you."
---
Isn't it funny how all the '80s styles now are on svelte, emaciated hipster boys? These fashions look so different with a little hair and brawn thrown in.
---
And by "For Her" they mean, "For when he feels like gettin' freaky."
---
Just because this kind of shock and awe is a little unorthodox doesn't mean it's ineffective.
---
The swimsuits of 1986 were actually quite tame when compared to what's going on over there now.
---
Guido Slacks. 'Nuff said.
---
The soft focus, the sad, subservient, irrelevant female, the women's underwear that looks like men's underwear: Genius.
---
A new attitude! In unnecessary glasses! And is it me, or is that shoe on the right downright obscene?
---
Earlier: UnderGear: No Boxers, No Briefs... From The People Who Brought You International Male Searching For The Worst Outfit In 'International Male'