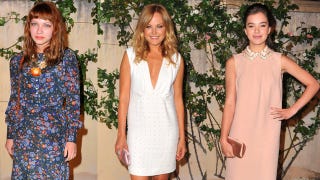 It's often said that there are two types of ways for women to dress: To impress men and to impress other women.The ethos of the Miu Miu aesthetic plays into the latter (fittingly, as it was a Miu Miu party), making this a refreshing break from other red carpet events.
Even though Hailee Steinfeld is only 14, she always manages to look like a little grownup—while still being age-appropriate, you know, as far as sex appeal goes.
The special touches Eve Hewson added—like her sequined LV clutch and her camera thumb ring—punched up her blush cocktail dress.

It's almost like there's a desk drawer in a cubicle on Wall Street where Camilla Belle has her Reeboks stored for her commute to and from work (in 1987).

I never thought that I would ever describe anyone as looking "darling," much less a girl who has a French manicure on her toes, much much less Ashley Tisdale, but seriously, I think she's my Best Dressed right here.

Actress Imogen Poots comes in close second with her cute pink Mary Janes.

Even though she's showing up for an artsy fartsy premiere in July 2011, and not to teach a class fourth graders in October 1944, Diane Kruger still looks elegant, despite her clumsy, giant handbag.

I appreciate Shannon Woodward's effort at Edie Beale-ism here, but her hearts-and-peace-sign headscarf went terribly with the floral blouse she wore under her trench coat dress. Meanwhile, I loved Alice Eve's hot-for-teacher getup and Jamie King's schoolgirl-inspired look.

Sting's daughter Fuschia Sumner has on those shoes that you fall in love with when you see them in the store and then you get them home and realize that they go with absolutely nothing.

No, no, no. No to Emily Montague's faux see-thru torso panel. No to Malin Akerman's ill-fitting boob cups. And no to Leslie Bibb's easy-access zippers.

Katie Cassidy was really the only woman in attendance who played into conventional sex appeal with her tight dress and snakeskin heels. The result is a low-rent Real Housewives of Orange County. (As if any of those women are "high" rent. At least the "rent" part is right. Very few of them actually have any equity, due to living beyond their means.)

Somehow, Steven Cojocaru's everything is grosser than Marilyn Manson's chapped lips, who, BTW, looks like my mom after she's eaten all her lipstick off grazing the various dips at a party. But at least she has the wherewithal to always reapply before her picture is taken.

When it comes to modesty frump, I think 15-year-old Tavi Gevinson (center) is way more appealing than adults Mary Elizabeth Winstead (left) and Lucrecia Martel (right).