For genteel young career women moving to the big bad city, there's just one respectable option: women's residences, where it's apparently always 1950. And awesome.
Anyone who's read any career romances (ahem) - or, for that matter, The Bell Jar - is familiar with New York's "women's residences" - genteel residential hotels that ban male guests and maybe provide little "beau parlors" for entertaining gentlemen callers, ideal for the young career woman new to the city, and usually funded by concerned parents. (In the romances, said career gals would generally meet a congenial roommate and find some amazing bachelorette apartment in a "marginal" area like Greenwich Village or Chelsea, where they they proceed to throw elaborate dinner parties involving chafing dishes.)
Well, they're still around, as the Times tells us - places like The Webster, The Brandon, or the nun-run Sacred Heart (where one friend of mine always bunks when in town.) And, guess what? They sound amazing:
Though the Barbizon and others, such as the Parkside Evangeline on Gramercy Park, have succumbed to developers' offers over the years, sold and remade into condos or luxury hotels, the smattering of all-female residences that remain are thriving, most with waiting lists of prospective tenants. The appeal today is not so different than it was in the past: safety, cleanliness and - especially attractive in modern-day New York - a good real estate deal....It costs about $1,000 per month to live at the Webster. For that you get a small single room and shared bath but also a hot breakfast and dinner, maid service, use of a large walled garden and a roof deck with a spectacular view of the Empire State Building. (Developers are constantly making unsolicited offers for the property.)
And yes, for Manhattan, a grand with hot meals is not just good, it's very good. If that sounds quaint, listen to this:
The Jeanne D'Arc Residence on West 24th Street, which was established in 1896 as a home for "friendless French girls" who crossed the Atlantic to take jobs as nannies and seamstresses, is even cheaper - between $355 and $510 a month, depending on the size of the room. But you have to cook yourself...Most residences require prospective tenants to go through a substantial screening process, requiring character references, a doctor's letter testifying to the applicant's good health and an interview. The Webster requires proof of employment.
G/O Media may get a commission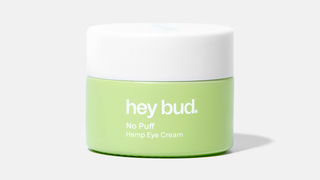 15% off
Hey Bud - No Puff Hemp Eye Cream
Um, done! The women quoted in the piece described the single-sex residences as "more relaxing" than coed, and more collegial - some of the same things cited when discussing single-sex education. And given that the piece also cites recent divorcees as residents, something of a refuge, too, between apartments and the stresses of normal city living - albeit of a different kind from what the founders enisioned. It's also, apparently, a great way to make friends in a place where that can be hard. Perhaps most intriguing, the residences bost "older women who have lived there for decades, nurses and secretaries who never quite found another life." How often, in this day and age do women of different ages live and learn together? Suffice to say, despite the disappointing absence of regular tea time, by the end of this piece I was totally sold and had downloaded the application. Sure, there's the small matter of the live-in boyfriend (no men allowed, ladies) but that's a small price to pay for time-travel without the baggage. (Oh, and a garden apartment with housekeeping.)

Where The Boys Aren't [NY Times]