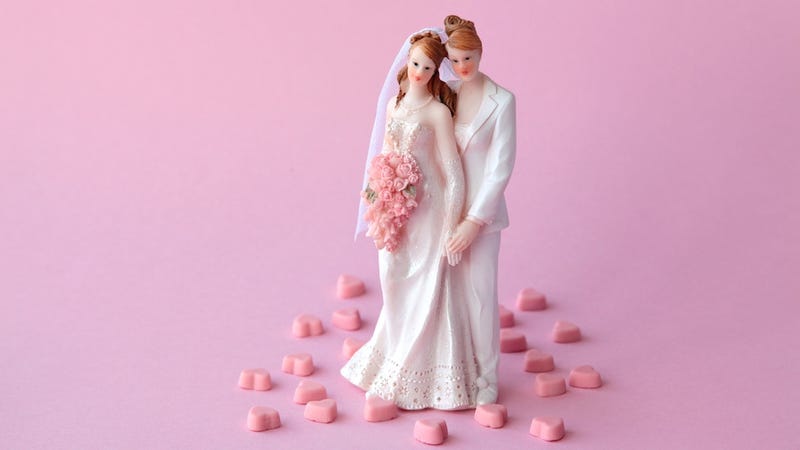 The ACLU is plunging its hands into the enormous pile of tulle, glitter and buttercream that is the modern American wedding. Specifically, the organization is cutting checks to five gay couples living in states where same-sex marriage is illegal, to contribute to the cost of getting hitched.
It's part of the ACLU's "My Big Gay (Il)legal Wedding" contest, according to the AP. Each of the winning couples gets $5,000 to defray the cost of crossing state lines and tying the knot. It's like bootlegging meets Say Yes to the Dress! What's not to love? The idea is they're supposed to get creative, like, er, "kayaking across a river or riding a hot air balloon." Sounds like there's someone at the ACLU harboring a secret desire to start a gonzo wedding-planning business.
The point is to draw attention to the fact there are still plenty of states where same-sex couples can't yet legally marry. The Advocate chatted with the winners, who hail from Tennessee, Texas, North Carolina, Arizona and Nevada. Said Lindsey and Megan from Chattanooga:
It's saying that you're married: We respect each other, we love each other, we trust each other, we are committed. Because Tennessee doesn't recognize marriage for same-sex couples, if I got sick, we couldn't visit each other in the hospital. Someday when we have a child, we want them to feel like their family is just as important and real as any other family. It makes them feel like less because they can't say that our moms are married.
If that requires parachuting or rappelling into another state, well, that's commitment.
Photo via Shutterstock.