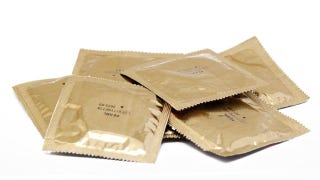 Don't you hate how condoms are so damn cheap? Luckily the brand Naked has developed a more expensive rubber for dudes to ejaculate in and throw out. $56 buys you a 12-pack of the luxury condoms, which feature thinner and softer latex than regular "ultra thin" condoms, hypoallergenic lubrication, and an easy-tear wrapper with six layers of foil. Plus, it comes in three sizes: Standard, large and extra-large. Everyone knows rich men never have small dicks!
But in case you're still not convinced, CEO Jud Ireland thinks you should consult with his sister, Marie. When asked why people should buy Naked condoms instead of Trojans, she said, "Because I'd rather have sex with someone who has a Naked condom than a Trojan. The guy looks better, I think."
Image via Dmitry V. Petrenko/Shutterstock.