In 2015, there was beef. Boy, was there ever beef. Let's take a look at the year in public, prolonged, funny and existentially ponderous disagreement, and resolve to be a little more chill in 2016.
The View Hosts vs. The View Hosts
After the departure of Barbara Walters, Sherri Shepherd, and Jenny McCarthy (thank goodness), the end of 2014 ushered in a new View cast, including Whoopi Goldberg (who may or may not have been imprisoned by her ABC contract), Rosie Perez, Rosie O'Donnell (who may or may not have steamrolled the competition to regain her seat) and Nicole Wallace (a former Republican strategist, played by Sarah Paulson in HBO's Game Change).
Stories of cast shouting matches rolled through the gossip rags during the fall, in which O'Donnell always seemed to be yelling at everyone. A small forest of bad press later, O'Donnell left her wife and The View in February. By April, tryouts for replacements were in full swing. They ended with child actress Raven-Symoné, a fateful misstep not just because of her horrible hair, but because by June she'd carved a well-defined niche of ill-formed "opinions," attracting hate-watchers aplenty—but not enough.
G/O Media may get a commission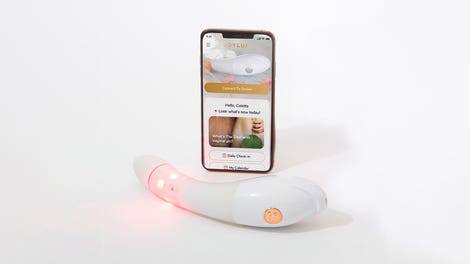 $50 Off
Joylux vFit Gold Device
In July, Michelle Collins came on board. Rosie Perez took a look around, was like, "Fuck This" and officially quit. Then Nicole was fired, perhaps for not knowing enough about the Kardashians, perhaps for being a boring panelist. As a rebuttal, she rattled off Keeping Up With The Kardashians facts and depressed everyone. Then Sherri Shepherd returned a few times while Kelly Osbourne stopped by to remind everyone that she was probably racist. In the meantime, Whoopi was kept struggling with whether her buddy Bill Cosby could have possibly attacked all of those women. Finally, in July, unable to stomach the Mount Kilimanjaro of allegations against him, she conceded that Cosby might be a monster. Welcome, Whoopi, welcome.
In August, hardcore Christian Candace Cameron Bure and comedian Paula Farris joined the cast along with throwback co-host Joy Behar, to fix the flailing ratings. Then Joy made fun of a Miss America contestant who was a nurse, and the country's nurses lit a bonfire under the struggling show's ass. The cast spent plenty of time apologizing and continued to limp along for the rest of the year.
The stories of cast squabbles have died down somewhat, and the ratings are plummeting in tandem. The show has just enough viewers that presidential candidates, pop stars, and ABC actors who still need a ratings boost still stop by, but nonetheless, the writing is on the wall: 2015 was the year that The View officially started to die in front of us.
Khloé Kardashian vs. Amber Rose
Like Meek Mill with Drake, someone really should've told Khloé Kardashian not to come for Amber Rose if she wasn't called. Here's where the saga sorta began: in February, Amber Rose—friend of Blac Chyna, Tyga's ex-girlfriend and mother of his son—was asked about the rapper's relationship with then-17-year-old Kylie Jenner.
"She's a baby, she needs to go to bed at 7 o'clock and relax," Rose said of Jenner. "That's ridiculous. [Tyga] should be ashamed of himself. For sure. He has a beautiful woman and a baby and left that for a 16-year-old who just turned 17."
In response, Khloé tweeted about Amber's past as a stripper, adding that the Philly native shouldn't "worry" about her sister and "people who live in glass houses shouldn't throw stones." In her tweets, Khloé probably forgot Kim K. allegedly slid into the DM's of Rose's ex Kanye West while he was still dating Rose. From her responses, it seems like Amber probably had heat stored up for the Kardashian clan, just waiting for an excuse to release the kraken—which she did.
Then Khloé, realizing she was in too deep, tried to wave an insincere white flag but it was too late:
As Khloé pretended to take the high road, Amber was not fooled, and continued to drag her, essentially calling Khloé the"plastic daughter of OJ Simpson," as perfectly described by my colleague Kara Brown.
Rose was and remains the victor in this beef. And Khloé, girl, in 2016, don't ever come unless you're called.
Scientology and Tom Cruise vs. Everyone
In March, HBO debuted Going Clear: Scientology and the Prison of Belief, an incendiary documentary about the inner workings of Scientology, its leader David Miscavige, and famous followers like John Travolta and Tom Cruise.
If you watched it, you know: it was madness. The revelations were startling; a former member even admitted to breaking up Cruise and Nicole Kidman's marriage and turning their adopted children against her because she wouldn't join the organization. In the face of widespread criticism, Scientology went on the offensive, trying to reinforce that the organization was a religion, not a cult—but they were shouting into a black hole.
By November, Leah Remini's book Troublemaker: Surviving Hollywood and Scientology hit shelves, detailing the weird shit that Cruise, Scientology's chosen one, made people do. Wanna play hide-n-go-seek with an adult millionaire? Of course you do, you're a Scientologist! By year's end, despite Scientologists' best efforts to discredit Going Clear's director and to block the film from theaters, America realized, or maybe remembered, that Scientology is essentially a cult. One Tom Cruise ex talking about scrubbing floors with a toothbrush is enough: Miscavige and the gang will not recover whatever passable image they may have once had.
Meek Mill vs. Drake
In 2012, Meek Mill and Drake made an excellent song together called "Amen" when the Philadelphia MC's star was on the rise. Three summers later, Drake didn't tweet the release of Meek's latest album, and thus the beef. The Philly MC felt slighted and called Drake out on Twitter.
Someone should've told Meek that his arms were too short to box with the Canadian gawd, or with the generally unsurprising existence of his all-but-confirmed ghostwriter named Quentin Miller. In response, in July, Drake released two diss tracks, "Charged Up" and "Back to Back," aimed at Rahmeek.
In the latter song, Drake famously asked Meek, "Is that a world tour or your girl's tour?" compounding the insult with "Shout to the boss bitches wifing niggas," referring to Onika's bigger career. Meek responded with the bafflingly ill-equipped track "Wanna Know."
Meek. Fam. Fam?
Half of "Wanna Know" is talking rather than rapping, though battle raps are historically comprised of rapping to exhibit one's prowess with the mic. The Internet skewered Meek and begged Nicki to dump him. Onika stayed above the fray, probably sucking her teeth and ignoring texts from Drake. Aubrey didn't mind and danced on Meek's fresh grave anyway at his OVO concert in Toronto, displaying anti-Meek memes on a big screen as the crowd screamed.
Poor Rahmeek. But to date he's still sleeping beside Nicki in a lavish Los Angeles pad while she watches the ID channel, so did he really lose?
Serena Williams' fans vs. Drake
2015 was the year of Serena Williams and the world wondering if a) she'd earn the world record for Grand Slam wins and b) if she was dating Drake. In the summer, the T.Dot MC appeared at her U.S. Open tennis matches in the crowd as well as her fashion show to support the athletic icon. In August, TMZ snuck a photo of the two holding hands and kissing in a private room probably reserved for rich people and everyone screamed (not as much as when we learned that Sanaa Lathan was really dating French Montana, but you know).
Then, in September, Serena lost her chance at beating the world's Grand Slam record and everyone began to blame Drake for being Drake and possibly distracting Serena from her real goal of kicking ass on the court. Thus, #blamedrake was born and then she suddenly started dating the guy from Reddit, or something? It was a confusing summer.
Taylor Swift vs. Nicki Minaj
Taylor Swift's sweet facade cracked and fell on the ground a number of times in 2015 and it was a delight for many of us to observe. One of these moments included Swift inserting herself into Nicki's commentary on her lack of MTV Video Music Awards nominations for "Anaconda."
With a number of VMA nominations under her belt, and assuming everything was about her, Swift responded to Nicki on Twitter:
Then Nicki and Black Twitter responded by dragging Swift, reminding her that, like Regina George, everyone is not in love with her:
Swift ultimately apologized. But it was too late. She betrayed herself in this beef.
Miley Cyrus vs. Nicki Minaj
Elsewhere, leading up to the MTV VMAs, Miley Cyrus—lover of black culture but not the black struggle—used some space in a New York Times interview to weigh in on Nicki's beef with Taylor. She shouldn't have.
"People forget that the choices that they make and how they treat people in life affect you in a really big way. If you do things with an open heart and you come at things with love, you would be heard and I would respect your statement. But I don't respect your statement because of the anger that came with it.

And it's not anger like, "Guys, I'm frustrated about some things that are a bigger issue."

You made it about you. Not to sound like a bitch, but that's like, "Eh, I didn't get my V.M.A."

But she was ——

If you want to make it about race, there's a way you could do that. But don't make it just about yourself. Say: "This is the reason why I think it's important to be nominated. There's girls everywhere with this body type."
Black Twitter rolled its eyes, but Nicki waited until she hit the stage of the VMA's to voice her disapproval with the meme-worthy, "Now, back to this bitch who was talking a lot of shit about me yesterday in the press; Miley, what's good?"
No one knew if the sharp and public attack was scripted, but the shock on Miley's face made it feel very real. In fairness, the child star-turned-shock value queen was begging to be called out for not supporting the culture she loves to cherry pick for its "edgy"accoutrements like dreadlocks, grills, and producers. Hi, Mike Will Made It.
Miley Cyrus vs. Clothes
Yes, we're still talking about Miley. In 2014, Miley seemed to already have beef with the concept of outfits but by 2015, she was just like, "Fuck clothes." Proof lies in her most recent "scandalous" photo shoot with sleazy photographer Terry Richardson. She is topless, sucking the barrel of a shot gun with photoshopped stars over her boobs because, man—fuck clothes.

Riley Curry vs. Sports Reporter Dudes
In May, the Golden State Warriors were battling their way to an unexpected NBA championship, but what's really important here is that the world met Stephen Curry's adorable then-two-year-old daughter Riley. In one press conference, she effortlessly pissed off a room full of adult men who watched helplessly while she ruined their chance of seriously interviewing her dad in a mindless post-game press conference. It was epic. And as entitled white men do, they grumbled about the audacity of a child to act like a child, to which Riley's mom Ayesha Curry wrote an open letter, saying, basically, "Riley's important and y'all will deal." Long live the Currys.
Donald Trump vs. Everyone Who Isn't White, Wealthy and Able-Bodied
Early in 2015, the idea of Donald Trump seriously campaigning for the Republican presidential nomination was comical. But by December, the comb-over king had damn near offended and/or publicly written off everyone and anyone who wasn't white, wealthy, heteronormative and able-bodied. He even offended Scott Pelley, who only survived an interview with Trump by holding a face that screamed "I am a fucking journalist, what am I doing here?" during their entire exchange. As John Cassidy wrote in The New Yorker, the question isn't whether Trump could get the Republican nomination, but rather, what it's going to take to stop him.
Vivica Fox vs. 50 Cent
Not sure why, but during a November episode of Watch What Happens Live!, Vivica Fox intimated that 50 Cent might be gay because of his disparaging comments about Empire, a show where Fox has guest-starred. She pointed to his posture in an old XXL cover with rapper Soulja Boy as proof.
In the image, Fif and Soulja stand beside one another, Fif in a s'medium tank top and a face mask and Soulja topless under the elder MC's arm lock, as thugs and their thug mentees are wont to do.
In hindsight, Fox was probably just drunkenly talking shit and later admitted that 50 was "a good time" in the bedroom. But Fif, being a bully, didn't take kindly to her assertions and ultimately called her an "old piece of shit." Keep it classy.
dream hampton vs. DeRay Mckesson vs. Johnetta Elzie vs. Shaun King
In every movement there is a breaking point at which private tensions bleed into the public. 2015 was that time for Black Lives Matter—and it was horrible to watch.
In August, as democratic presidential hopefuls sought out meetings with BLM activists, the question of who gets the credit arose. Veteran journalist and activist dream hampton was upset that DeRay Mckesson, avid Twitter activist and his partner with Johnetta "Netta" Elzie in organizations like Mapping Police Violence and other protestor coordinating interfaces, was approached by Bernie Sanders' campaigns. Her reasoning: he wasn't part of the official BLM organization, begun by Patrisse Cullors, Alicia Garza, and Opal Tometi, which has national chapters and a board.
dream also called out DeRay and Netta in private texts to Netta's friend Erika Totten, which Totten published on Twitter after dream's jabs. It's important to note that Mckesson's never claimed to represent BLM officially, which as a movement has no official leader. As all of this was magnified through retweets and commentary, it was depressing all around.
Then in December, DeRay tweeted Shaun King, a social justice writer who gained attention writing about BLM issues at the Daily Kos before moving to the New York Daily News, about the unaccounted funds from a now-defunct charity organization called Justice Together. Previously, King had promised to return the organization's donations to their sources but people reportedly haven't received their money.
Instead of answering the questions lobbied by DeRay, a board member of the now-shuttered Justice Forever, King pulled a Suge Knight and accused DeRay and Netta of being too glamorous rather than hard-working. Neither Netta nor DeRay took that lying down, which ignited Black Twitter and right-wing Twitter (your enemy's enemy is your friend, etc). Their dispute became a follow-up to Breitbart's early attempt to accuse the biracial King of secretly being a white man profiting from black pain (the end of that story: King is biracial). Again, no one won any of those fights either and it was sad all around.
Fortunately, Black Twitter is hilarious and took the ego-driven shit show to create #civilrightstwitter.
Dishonorable Mentions:
Nicki Minaj vs. the New York Times
Justin Bieber's Surprisingly Large Peen vs. the Paparazzi
Red Meat Lovers vs. the World Health Organization
Deadmau5 vs. David Guetta, Skrillex, Calvin Harris and Justin Bieber
Noel Gallagher vs. The World (20 years strong)
---
Contact the author at Hillary@jezebel.com.
Top images via AP; other images via ABC, MTV/screengrab, Getty, AP