When People announced its Sexiest Man Alive today — Hugh Jackman, you may recall — we thought, well, that's all well and good and he is hot, but what about the guys who don't (necessarily) grace the big and small screens but do get our hearts a-twitter and our loins a-twitchin'? Anna calls them the "counterintuitively sexy" men: those who grab our brains and then work their way down. The Jezebel staff has some ideas about those kinds of guys too, ten of whom, naturally, after the jump. (Feel free to add your own in the comments.)


Ana Gasteyer Satirizes the Girl Boss in 'American Auto'
1. Barack Obama It's ok, you can admit it, power is sometimes an aphrodisiac — though Barack Obama has that, now, in addition to looks, obvious intellect, political skills, rhetoric prowess and the kind of physical chemistry with his wife that makes you know he's good in the sack. Henry Kissinger doesn't have anything on the President-Elect.

G/O Media may get a commission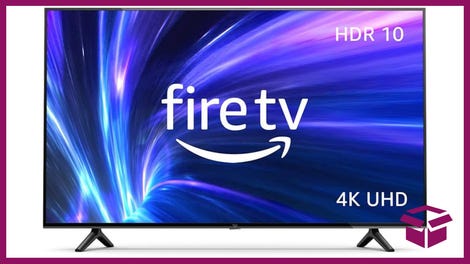 42% Off
Amazon Fire TV 50" 4K Smart TV
2. Rahm Emanuel Former Congressman, former banker, former White House staffer, former ballet dancer — Rahm Emanuel's done a little bit of everything, and variety is the spice of life. He might be "just" the Chief-of-Staff to be, but plenty of lusty ladies would like to be the women in charge of his staff. In spite of — or maybe because of — his reputedly volcanic temper, dirty mouth and really big... brain, looking at him in this picture, you know he's thinking something naughty, and you want him to show you what it is.

3. Reggie Love Never has the personal aide (or, um, "body man") to a President-Elect come fitted with such a porn-perfect name or the face and physique to make you wish he'd gotten a spread in Playgirl before it went belly-up. By all accounts, he's a nice guy, but, honestly, he could be kind of a prick and we'd still want to see what's under those tailored suits.

4. Nate Silver Nerd hottie extraordinaire Nate Silver has appeared in one of these lists before, but his hotness still holds. The founder of FiveThirtyEight.com is still using his sexy brain to crunch some decidedly unsexy numbers, but he always puts the lie to the right-wing meme that left bloggers are a bunch of Cheetoh-eating slobs in their pajamas in their mother's basements. But if he'd like to put some sexy PJs on and explore, um, downstairs just to check out what it's like in Mama's basement, I'm sure we could work out some sort of arrangement.

5. Ezra Klein Ezra Klein — dubbed "America's sexiest health policy analyst" — has one of the biggest... brains among Washington blogger types and is a stand-out man (and feminist) in an often female-dominated policy field. Although they're hidden by his suit in this picture, his tan-and-very-toned arms and, one assumes, chest will definitely banish all thoughts of Cheetos from the mind of his average heterosexual female colleague. Although it feels weird to continue cracking sex puns about someone I've met, I have no actual shame and have it on good authority that there's nothing klein about Ezra.

6. Jason Segal One of the sexiest things in a guy is a man without body hang-ups, and Jason Segal definitely fits in quite nicely that way. Funny without being shlumpy, sad without being a sad sack, any man that tickles my funny bone stands a better-than-average chance of tickling any other part of my anatomy in short order.

7. Justin Long Oh, what, you thought I'd stop beating my Nerd Crush Object dead horse so soon? Sorry, even Dodai says "If you have seen him try to seduce Blake Lively with a disco ball and the Cure's "Close to Me" in the movie Accepted then you will understand." Adorably dorky, down -to-earth, funny as hell and he likes dive-y bars on the Lower East Side? Please inset your own muff-diving joke here, I've got a deadline to meet.

8. Wyatt Cenac Didn't recognize your newest Daily Show correspondent? Under all that facial hair and joke-making is the body of a true hottie, which he's obviously hiding so someone will recognize his brains before his beauty. Now if he's just take off those clothes, we promise he can keep the beard.

9. Sasha Petraske Sadie recommended Sasha Petraske, a entrepreneur and barman, as an everyday hottie and she had me at "serves me alcohol. But I don't even need my tequila-goggles to come up with reasons to shut down the bar and try to order from the take-out menu. Actually, if I'm ordering, preferably both out and in, thanks.

10. Baby Dayliner Mix a couple of degrees of Kevin Bacon with some actual musical talent and you get yourself some Baby Dayliner. Not to be all cliché about band guys, but there is something about a man that can put on a command performance with his clothes on that makes you hope he can weaken your knees after the set if over, even if that means he's gotta get down on his while you try to stay upright in those FMPs you wore to the show.
Related: 2008's Sexiest Man Alive [People] The Body Man [New York Times] The Spreadsheet Psychic [New York Magazine] East Villagers Spurn Sasha Petraske Again, But Fight's Only Just Begun [New York Observer] Pictures via Sarahcass and niq77174