A female Texas state trooper has been suspended after being caught on camera with her hand down two women's pants "searching" for god knows what after she and and a colleague pulled them over for throwing cigarette butts out the window. It's like a scene out of a bad porno — except it happened in real life, by the side of the road, the women obviously did not consent to having fingers stuck up their anuses and vaginas, and to say the Texas Department of Public Safety has some serious explaining to do is an understatement.
"To search a human being in this matter - it's mind boggling," Scott H. Palmer, the lawyer who is representing Ashley Dobbs, 24, and her aunt Angel Dobbs, 38, the women who were publicly cavity searched by state trooper Kelley Helleson on order from fellow trooper David Farell for no good reason, told the NY Daily News. He said he talked to law enforcement throughout Texas and Oklahoma and "No one's ever heard of such a ridiculous search...This isn't supposed to happen and should never happen again." He also called the searches a "sexual assault" on the side of the road.
According to reports, Farell asked the women if they had been smoking pot. When they said no, he searched the car and gave them a sobriety test, which the driver passed. The suit said he thought the women were "acting weird," which is why he asked Helleson to search the women's anuses and vaginas — again, ON THE SIDE OF THE ROAD — as other vehicles passed by.
In the video, you can hear Angel telling Farell that she's having an "eye-opening experience" and that she's "never been pulled over, never searched like this... I was like totally violated over there a few minutes ago. I had a finger in my a— and a finger in my p——… This is so embarrassing to me." I can't even imagine.
The women also are suing Steven McCraw, director of the Texas Department of Public Safety, because they say he was aware of other complaints about "unlawful strip searches, cavity searches and the like" but didn't do anything about it. It's unclear how they know that, but nothing seems unlikely anymore! A spokesperson said that they're looking into it.
G/O Media may get a commission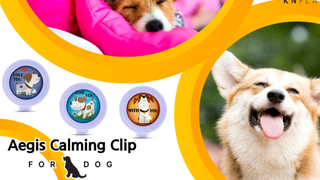 20% off
Aegis Calming Clip for Dogs