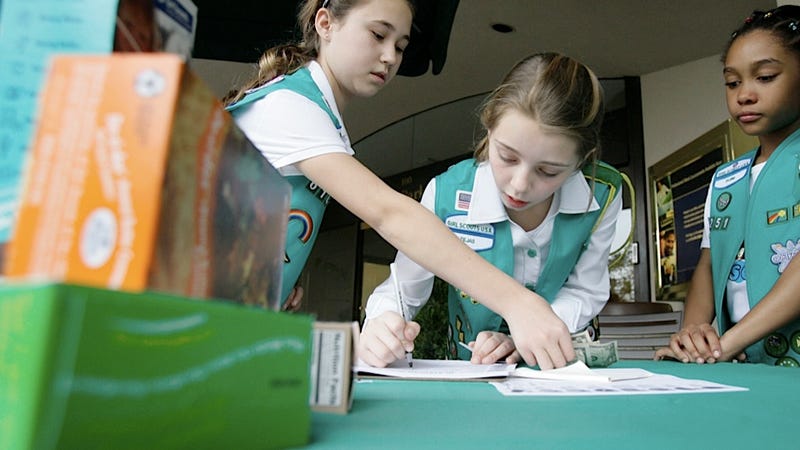 Houston-area girl scouts showed that they hadn't yet earned merit badges in street justice after they let a man who'd grabbed a cash box stuffed with $200 of their cookie money slip through their tiny little fingers. The incident left one of the girls injured when she tried to stop a getaway car from leaving the scene.
Iravia Cotton and Rachel Johnson were selling cookies outside a Walmart in Fort Bend County, Texas when a stranger got out of his car, made some casual inquiries about the price of their delightful confections, and suddenly swiped their cash box. Undaunted, Cotton chased the man back to his car. "I started hitting the boy in the passenger seat," she said. "So I think he learned his lesson a little bit...and then they dragged my friend Rachel across the street." Rachel Johnson, tenacious in her pursuit of the cookie bandits, held fast onto the car's rear bumper in a bid to stop it from driving away. As the car dragged her, she reportedly shouted, "I hope your from where Iravia punched you, jerk, bam! I hope your face hurts and I hope it leaves a scar. Who steals money from Girl Scouts, I mean, really?"
Police say the suspects covered their license plate, meaning that this run on the girl scouts' cash box was premeditated. Though it's tempting to side with the girl scouts, a little skepticism might serve us well because, after all, those cookies are crazy addictive and I wouldn't be surprised if an investigation reveals that this seeming cookie-cash thievery was actually part of a drug-related turf war.
Man steals money from girl scout cookie sales in Texas [CNN]