I'm 35. According to America, this is the year that I should begin having things injected via needle into my face, but that sounds expensive and painful. I don't want to do that.
I'm a stay at home mom/wife/writer/background actor/photographer/singer/songwriter/artist/tweeter. That sounds like I do a lot, but honestly, most days I end up doing not much at all. I have one kid who is kind of nerdy and not into sports, so it's not like I'm busy carting him around from game to game all the time. I only work in film and television only a couple times a month because New York is a haul from where I live in Philadelphia, and then the other stuff is kind of on a "feeling inspired" basis.
What I'm saying is that I don't really have set beauty routine since I don't do the same thing every day, but I do spend a lot of time trying to figure out affordable ways to keep myself from looking old. I've been told that I could pass for someone in my twenties (and have even been cast as a college student), so I guess I've been fairly successful so far.
First of all, I don't shower every day. I know that's gross to some of you, but my skin and scalp get way too dry if I shower every day. Also? Showering is hard. Getting all wet, only to have to dry off again and then start from scratch with my hair? No, thank you. I'm an every other day kind of gal, and less if I can get away with it.
When I do shower (I did today – my hair was a wreck), I use whatever shampoo and conditioner was on sale at Costco when I last ran out, which happens to be Pantene Pro-v right now. If my hair feels especially dry, I'll use some of the conditioner that comes in the box of hair dye from the last time I colored my hair.
G/O Media may get a commission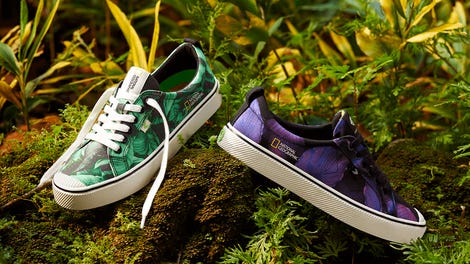 New New New
Cariuma + National Geographic
Oh, yeah: I color my own hair. I've tried getting it done professionally before, but it's so expensive and time consuming. I just throw a box of L'Oreal Preference crème in shade 5RB onto my roots every four weeks and get on with it. (One time, a hairdresser handed me his card and said, "Stop coloring your own hair. YES, I can tell," but I've actually gotten a lot of compliments on my hair color from people who aren't horrible douchebags, so whatever, Hair Dude!)
For my face in the morning, I use unrefined organic coconut oil (Carrington Farms - it comes in a giant jar at Costco, and I just fill up a little 3-oz. Gladware container to keep in my bathroom) and a Clairsonic Mia brush for exfoliating. As someone with acne-prone skin, putting oil on my face was weird for me to get used to at first, but now I can't say enough good things about it. My skin is clearer than ever. Also, I always had trouble with flaking in the winter, but this has fixed that problem completely.
I wash my body with Dove because my grandma always used Dove and it smells like her house. Also, it's fairly cheap and non-drying. When I get out of the shower I rub myself down with Nivea lotion, or whatever else is on sale or I have a coupon for, as long as it's thick. The air in my house is so dry, if I don't slather on some thick lotion, I get very itchy. Sometimes, I'll use coconut oil on my body as well, it just depends on how dry I'm feeling.
Speaking of dry: my hair is pretty dry. I started getting grey hair when I was 18 (hence the constant coloring), and I'd probably be about 20% grey if I grew it out right now. I also use a lot of heat when styling, so even though it doesn't look it, my hair is not in the best condition. Leaving it to air dry isn't really an option because it's very curly underneath and only wavy on top, which also lends me an incredibly unflattering cowlick. I'm unbearably jealous of women who can let their hair air dry.
I just started using Dove Quench Absolute Crème Serum, and I like it. It smells masculine (in a good way) and just seems to help my hair look better. I usually blow dry with a round brush, then style with a big-barrel curling iron and a flat iron for really stubborn pieces. I finish it off with Dove Style+Care Strength & Shine Extra Hold Hairspray. Oh, I also use Dove Go Fresh deodorant. Dove Dove Dove. Dove.
If my face still feels a bit tight, I pat on some Clinique Moisture Surge. I'm out right now, but because it's so expensive, I'll only buy this stuff at a cosmetics counter when it's bonus time (read: free gift with purchase). It's a fantastic gel-type moisturizer and I highly recommend it, especially in the summer when, if like me, you might be trying to control oil rather than bring it to the surface. Since I have no Moisture Surge today, I'll just rub in a bit more coconut oil if (ha!) I'm dry and then pat my face gently with a towel to absorb excess.
Makeup time! I love makeup. Makeup is my JAM. As you may have gathered by now, I'm kind of frugal, so I'm not loyal to a lot of products. My base face is an exception. I use Laura Mercier mineral powder foundation in Tender Rose and Benefit Boing concealers in 01 & 02.
First, the foundation. There are a great many articles out there telling you not to use powder foundation, but I've tried all the liquids and BB and CC and every letter creams and I don't like them. I used to use Bare Minerals, but it always made my skin itchy and red, especially when I would sweat. I actually used it anyway for maybe two years until I found Laura Mercier's Mineral Powder Foundation. It's finer than BM and doesn't make me itch. I've gotten many compliments on my glowy skin while wearing this stuff, which is a huge confidence-booster for someone who's struggled with weird skin her whole life. I do one thing with this powder that's worth noting: I store it in an old Philosophy Supernatural Airbrushed Canvas jar. I tried that foundation a long time ago and, while I didn't like it, I loved the delivery system. It has a little puff on top that the powder comes out through, so you just buff that over your skin instead of dealing with brushes. I bought a bunch of replacement puffs for the top and wash them or change them out every time I refill it. I think Philosophy stopped selling that foundation in that particular jar, but I've seen other mineral powders using the same system now, so you could probably find one if you hunted around.
I hate that I have to buy two shades of concealer, but my skin is exactly between the two. I've tried lots of other concealers, but nothing has even come close Boing. It covers like a champ, feels light on the skin, looks natural, doesn't break me out, and stays on all day. It's the best.
You may have noticed that I don't use a primer. I have a few that I've gotten as samples from Sephora, but I've never found them to make much difference. If it's a special occasion, I may use a bit of Benefit's POREfessional, but I honestly can't say it makes a huge difference. It just feels like something I should do, especially since I'm so…aware of my pores.
I use the tiniest bit of Wet n Wild bronzer where the sun would hit my face. I would tell you the shade, but it broke a long time ago and I keep it in a box leftover from another product. I know what you're thinking: Wet n Wild? I thought this chick was 35??, but I used to work with a girl who was very tan and always pretty and glow-y. She had tried every bronzer on the market, but she swore by Wet N Wild. I know you probably think I'm biased since I'm so cheap, but spend the $4 and try it for yourself. It's pretty great.
I have a bunch of Clinique blushes in compacts (gifts with purchases) that I use sometimes, but I've been using eyeshadow as blush lately. I recently bought Almay's Intense Eye Color Bold Nudes palate in an effort to find a ringer for my favorite, discontinued, Lorac eyeshadow (bring back Serenity, Lorac!) and found that I really like the bottom shade on my cheeks. It's pinky and peachy and lovely.
I usually start my eyes by curling my lashes, then I use Smashbox Limitless Eyeliner pencil in Onyx. I draw the line very close to my lashes, making sure to get all the nooks and crannies in between the lashes. Sometimes I line the bottom, sometimes I don't. Lately, I've been lining the insides of my lower lashes, then wiping it off right at the end. I'm kind of fickle about my eyeliner habits because I'm always worried I'll end up looking like a Real Housewife of Orange County if it's too dark.
My brows are big and full anyway, but I use a teeny bit of Benefit's Brow Zing in medium, mostly to fill in the ends. Even though I have really dark (black) eyebrows, the darkest shade looks too harsh on me. One compact of Brow Zing will last me a year or two.
For my lids, I usually cover them first with my base, then use the top, lightest (kind of white) color from the Almay palate from lashes to brows. Then, I like a pinky-bronze-y type color on my lids. I've had this Maybelline Expert Wear palate in Sunlit Bronze for who knows how long, and the shade in the upper right hand corner does the trick. I used the powder side of my Brow Zings in the crease today. It's great as a shadow because it's highly pigmented so you don't need a lot, and it stays put. I am very resourceful.
Speaking of which, let me tell you about my mascara scheme. If you shop at Sephora, you can sign up for a (free) Beauty Insider card and accumulate one point for every dollar you spend. When you reach 100 points, you can pick out a free deluxe sample, and I always wait until they have a mascara sample and choose that. Consequently, I almost never pay for mascara. Benefit's They're Real! is my favorite, and I have actually bought it before – but still in the sample size. I prefer sample sizes because I'm able to use the whole bottle, whereas I felt like I was always throwing away dried out, half-full mascaras when I would buy the full-size version.
Oh my God, this is so much stuff. I am so sorry. Are you still with me?
If I'm feeling peppy, I'll put a highlighter on the tops of my cheeks and my brow bones. I use a little sample of Benefit's Watt's Up that I got ages ago and has lasted me forever. I don't usually put on lipstick until (if) I leave the house, but today I used Clinique Long Last lipstick in Beauty (another gift with purchase), and a little bit of Benefit's Sugarbomb gloss in Ultra Plush. Do I sometimes put on all this makeup and never leave the house? Yes, yes I do. It sounds crazy, but – even if I'm alone – when I look nice, I feel better about myself. Also, my husband and child see me at the end of the day and they seem to appreciate the effort.
If I do make it out of the house, I might touchup my lipstick or blot my face with a Boscia oil blotting paper…or a (fresh, unused) toilet seat cover, in a pinch. I didn't make it out today because I'm snowed in. I'll probably go outside and shovel later, which will ruin everything I did to my head, but oh well.
At bed time, I wash my face using Cetaphil bar soap, then I put on a prescription tretinoin/clindamycin gel (Ziana). When that dries, I slather coconut oil all over my face, which usually ends up in my eyes and makes everything blurry. This makes it very difficult to play Candy Crush on my phone in bed. This is the one thing I don't like about coconut oil. Chapstick on the lips.
In summation, I am cheap, resourceful, and dry and it takes a whopping 21 products to get me out the door on days I shower. Also, I guess I have a penchant for Dove and Benefit products, though I never realized it before. Any questions?
Teri Brown writes books, blogs, tweets, songs, and grocery lists. She's passionate about beauty products, social justice, bargain shopping, and baby animal videos.