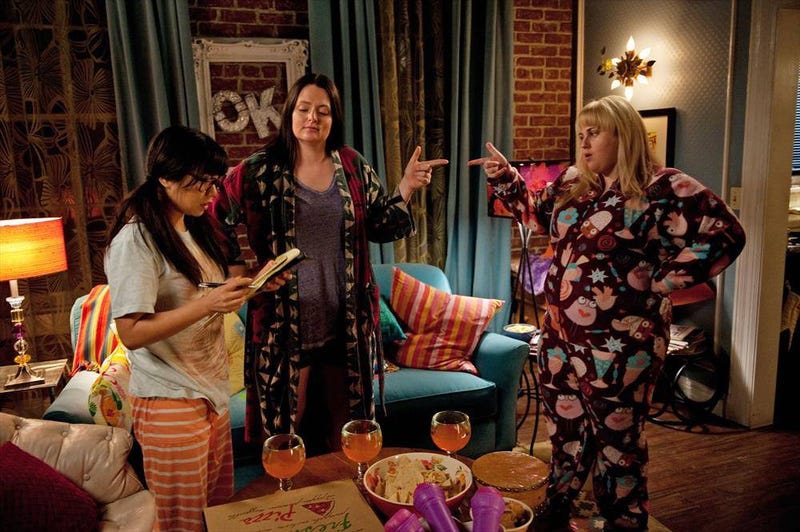 A new report released Thursday by San Diego State University's Center for the Study of Women in Television and Film indicates that the number of women working behind the scenes on television shows has increased two percent since 2011 and seven percent since the 1997 season, incremental growth that indicates long-term positive change for women in the industry.
The number of women working as series creators, EPs, producers, writers, directors, editors and DPs have all increased since the Center first started counting 15 years ago, though a few categories, like series creator or DP, show slight declines since the 2011-2012 season. Considering premium and basic cable shows brought down the percentage of women behind the camera slightly, which isn't a surprise, given that many of the highly-touted, heavily-awarded shows have male showrunners, like Boardwalk Empire or Mad Men or Breaking Bad.
Women in front of the camera still fared worse than men, but are running all over the place compared to their counterparts in the film industry: they made up 43 percent of all characters, speaking and non, during the 2012-13 season. It's the lady-heavy if not always racially diverse CW that should be getting the most props right now, as The Hollywood Reporter notes that:
The CW featured the highest percentage of female characters with 51 percent, followed by Fox and ABC (44 percent), NBC (41) and CBS (39). The CW was the only network to feature female characters in proportion to their representation in the U.S. population.
Yes, that FOX, the network that's so into racism these days is more impressive than you might think, with a lineup that includes New Girl and The Mindy Project.
Unsurprisingly, women were represented the most on reality television shows, given that that's a market with a highly female audience, who eat up anything on Bravo and E!. (Though as has been remarked before, it's not as if the quality of their plot lines were accounted for: we wouldn't exactly say that Bad Girls Club is advancing representations of women.)
When considering television and film, television is clearly the more flexible and democratic place for women to find work. Case in point: women who have had the opportunity to leave successful shows behind to work on other projects, like Awkward creator Lauren Iungerich, who has a comedy pilot going with ABC called Damaged Goods with the vague premise of being "about the sexual politics that have changed between men and women in this post-feminist era." Whatever Iungerich's show will actually be about remains to be seen, but a movie with based on that idea would certainly never get greenlit. It's worth pondering, however, if perhaps the mere format of a TV show lends itself better to presenting nuanced depictions of all kinds of people. A movie is a few hours long with a ton of limits set in place, time being the most obvious. A television show could arguably go on for many seasons, span over many years, and incorporate lots of different characters wending their way in and out of the world being displayed For many, this is television's great appeal: it more accurately mimics real life.
This is partially why, as Linda Holmes and others noted at the start of summer movie season, a massive majority of movies out this season were about men, with women relegated to supporting roles. On television at least, women are seeing themselves more than they ever have before. So even if that way isn't always entirely the full picture, it's closer than if you decide to pay over $10 for a movie ticket.
Women Making Strides on TV, New Report Finds [THR]
Image via Facebook