A teenage girl known only as "Jane Doe" was discovered outside of New York's Covenant House youth shelter earlier this month, unable to recall her own name or any details about her life. Police are still struggling to identify her.
The girl, whose age is estimated somewhere between 14-17, released a chilling statement through the New York City Administration for Children's Services: ""I just want to know who I am. I just want to know what happened to me." At present, the only things she can remember about her life are the name "Amber," which may or may not be her actual name, and, according to CNN, "on another occasion she is said to have recalled certain words, which turned out to be an excerpt from the fantasy novel "Fool's Fate" by Robin Hobb." The girl is also a writer, and is currently attempting to write a fantasy novel of her own.
Police are worried about their inability to identify the girl, particularly the fact that no parents have stepped forward to claim a missing child. "it's been a very long time now, Lt. Christopher Zimmerman tells CNN, "That's a long time frame to not identify somebody. Especially someone who we believe is a juvenile. Usually juveniles we get a lot of inquiries about." Police in Escondido, CA, meanwhile, have already ruled out the possibility of the girl being Amber Dubois, a 14-year-old girl who has been missing since last February.
The whole story is just terribly sad; as Brandy Zahrers of Covenant House tells CBS, "I see a tragedy. She looks like she's 15-years-old and no one knows who she is and no one's looking for her. Does she have family?" One hopes that someone out there knows who this girl is, and that they'll help put an end to this mystery soon; anyone with any information is asked to contact the NYPD Missing Person Squad at 212-694-7781.
Update: As a few of our commenters have pointed out, KMBC-TV in Kansas City, Mo., is asking if perhaps "Jane Doe" is actually Kara Kopetsky, a teenage girl who disappeared in May of 2007. The station notes a "resemblance" between the two, though there is no definitive proof of a link. Sadly, I think we may see more stories like this as this case unfolds. Hopefully, whoever this girl is, she will be identified soon.
G/O Media may get a commission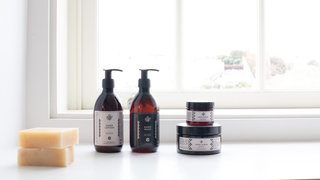 Exfoliate and Hydrate
The Handmade Soap Company
Is Girl Found In NY Kara Kopetsky? [KMBC]
NYPD Seeks Help In Identifying Teen With Amnesia [WCBS]
Girl In N.Y. Claims No Memory [CNN]
Teen Found In New York Is Not Amber Dubois [MyValleyNews]
[Image via NYC Administration For Children's Services]