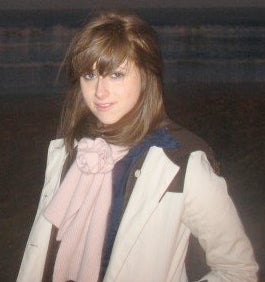 We always thought there was something really suspicious and Penthouse 'Letters'-y about the Teen Vogue "intern blog", and the other day, upon reading the virgin post of new Intern Juli — pictured somewhat ridiculously at left — we finally figured out why! For your consideration, examples from three separate interns' recent dispatches:
Juli:"I was so stressed when deciding what to wear to my interview. I ran around all day in a panic."

Sara:"I felt really stressed out about what to wear to my interview. This culminated in some impulsive, last minute shopping at the Barney's Co-op."

Diana:"On the day of my interview, I slipped into my favorite little black dress, Sigerson Morrison peep-toe wedges, and classic Burberry trench coat."
Hmmm! Could the entries all have been written by the same person, we wondered? We decided to investigate further, starting with those outfits...
We were so excited by all this that we decided we'd run some numbers, but then we realized almost every single aforementioned price was wayyyy bigger than, like, our entire clothing budget (ha ha, "budget"!) back when we were interns. Our conclusion? No way did real interns write these posts! That would mean they'd have to be some sort of child of privilege to get an internship at Teen Vogue, when editor in chief Amy Astley made it seem like all you needed to do was "love clothesHm. Maybe this is explains why we started hating clothes.
InternBlog [TeenVogue]
Earlier: How To Ace A 'Teen Vogue' Interview: Love Clothes!
Related: How To Become A Conde Nast Intern [Gawker]