13-year-old Laura Dekker wants to become the youngest person to sail solo around the world, a goal her parents support. But today, Dutch authorities put her in temporary state custody while psychologists assess whether she should be allowed to go.
Laura has been placed in the dual custody of Dutch child care officials and her parents, who are divorced, for the next two months while an independent child psychologist evaluates her case, the Associated Press reports. She can continue to live with her father but would need state approval to leave on a planned two-year trip in her 26-foot boat. Both parents have consented to the trip.
Laura wants to challenge the record set by 17-year-old British teenager Mike Perham who became the youngest person to sail around the world after completing a nine-month journey yesterday. Dutch officials argue that Laura is too young to weigh the dangers of the trip and are concerned because Laura has proposed missing two years of school and tutoring herself while alone on the boat. Laura's father, Dick Dekker, who is an experienced sailor, challenged their objections saying, "Where do you learn more, on a two-year trip or at high school?''
No one disputes that Laura is an excellent sailor. She was born on a boat in New Zealand while her parents were sailing around the world and spent the first four years of her life living on a yacht. Earlier this year, she was picked up by police in Britain after she sailed to the country from the Netherlands alone, according to The Guardian. Child care officials took her in for a night after her father refused their request that he come pick her up because he said she could sail home herself. The next day he agreed to fly to Britain and sail back with her.
A lawyer for Laura's father tells the Times of London that he's happy with the verdict:
"I was expecting this. It was a very difficult decision for the court. If they had said yes straight away every young person could look at it and say 'I don't want to go to school, I will copy Laura and go sailing for two years'," he said. "On the other hand, if they had said no straight away what would that mean for sports in Holland? This is a good compromise; they are saying we have to look at every individual case."
G/O Media may get a commission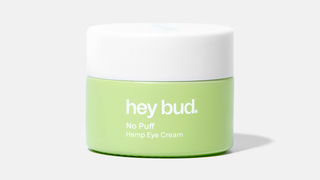 15% off
Hey Bud - No Puff Hemp Eye Cream
Her father says he may move to New Zealand if the Dutch stop Laura's trip. The court has scheduled a second hearing for October 26 on whether to extend state custody. By then she will be 14.
Dutch Put 13-Year-Old Sailor Under State Care [Associated Press]
Girl, 13, Put Into Care For Wanting To Sail Solo Around The World [The Guardian]
Court Bans Teen Sailor Laura Dekker From Record-Breaking Voyage [Time of London]