After Saige Hatch, 15, noticed a lot of sartorial "immodesty" at South Pasadena High School, despite their basic rules of appropriate dress code, she started a co-ed Modesty Club, inspired by a "No-Cussing Club" begun by her brother in 2009. His club garnered death threats and thousands of pieces of hate mail as well as porn subscriptions, but Saige, in 5th grade at the time, admired his willingness to commit to something so unpopular.
She pegs immodest dress as showing cleavage, showing one's midriff or one's shoulders—also shorts, dresses, pants and skirts that are too short or tight—and the set of Modesty Club standards on the website features cute rhyming rules (e.g. "It's best to flirt in a knee length skirt.") The mission statement reads: "A shift is coming, sneaking through the literal fabric of our culture. Our bright heroic women are being made the fool. A fool to think that to be loved they must be naked. To be noticed they must be sexualized. To be admired they must be objectified."
While there are only 17 members in her school's chapter, the website has raked in 1,000 members from all 50 states as well as 14 countries. Michael Cacciotti, the mayor of South Pasadena, has declared December 3rd to 7th "Modesty Week" in Hatch's honor. Good on her, I say. It's not all Teen Mom marathons and jelly sex bracelets out there. The kids are all right.
Hatch is, in fact, groomed for this kind of Tracy Flick-ism: her parents, Brent and Phelecia, co-authored a child-rearing guide called Raising a G-Rated Family in an X-Rated World. Above, the Modesty Club's endlessly entertaining official video. Enjoy. You're very welcome.
G/O Media may get a commission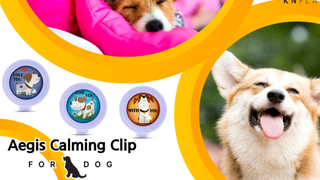 20% off
Aegis Calming Clip for Dogs
'Calif. HS Student Starts Modesty Club in Reaction to Too Much Skin' [ABC News]