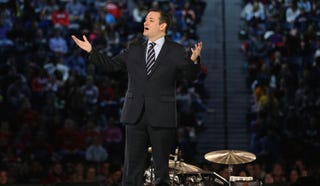 In an attempt to shore up his cred with Evangelicals, Texas senator Ted Cruz will be rolling out the first ads of his presidential campaign on Easter Sunday. Because, let's be honest, nothing says "presidential campaign" quite like the resurrection of Christ.
Cruz's ad will air during the Fox News broadcast of Killing Jesus, an adaption of Bill O'Reilly's best-selling book, and in "key states" during NBC's broadcast of A.D.: The Bible Continues. Should you dare, you can watch the ad here.

"The campaign is spending $33,000 on the 30-second spot, which features Cruz talking about the impact of the "​transformative love of Jesus Christ" on his life."
Since Cruz announced his candidacy at Liberty University last week, he's become one of the most vocal supporters of Indiana's "religious freedom law." On Friday, Cruz reiterated his support for the Indiana law to a group of Iowa supporters:
"There are a lot of people here in Iowa and across the country whose hearts are breaking watching what has happened in the last two weeks. We have seen a grossly unfair vilification of religious liberty."
Ted Cruz: bringing religious liberty back one campaign ad at a time.
Image via Getty.