It's worth reminding ourselves now and again that while Donald Trump is a soulless corn husk shilling for votes, Ted Cruz is both that and also an even more genuinely horrifying person, in that he fervently believes every hateful word he utters. Case in point: a new ad by Cruz for President that supports anti-trans bathroom laws in the most vile way imaginable.
The ad, "Appropriate," appeared on Cruz's YouTube channel Thursday night and on Twitter Friday morning:
"Should a grown man pretending to be a woman be allowed to use the women's restroom?" it asks, in ominous black-and-white captions over photos of a once-peaceful toilet, now sullied by trans people. "The same restroom used by your daughter? Your wife?"
This is a response to Trump's comments on the Today show yesterday that North Carolina's anti-trans bathroom law probably went too far. Trump's head balloons onscreen: "People go, they use the bathroom that they feel is appropriate," he says, in a soundbite snippet.
"Donald Trump thinks so," the captions resume solemnly. "It's not appropriate. It's not safe. It's PC nonsense that's destroying America. Donald Trump won't take on the PC police. He's one of them."
G/O Media may get a commission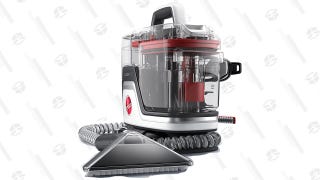 Save $10
Hoover CleanSlate Plus Carpet & Upholstery Cleaner
Even by the standards of shitty ads, this one is remarkably, baldly bigoted. Notably, it doesn't feature a voiceover from Ted Cruz, as is usual with campaign ads, saying, "I'm Ted Cruz and I approve this message." It's tempting to think that's because Cruz wanted to distance himself from such an active garbage fire of a sentiment, but in reality, they're probably exploiting some campaigning loophole we remain unaware of.
As you might expect—and as was surely the intention—it's playing very well with Cruz's voter base.