VH1 has aired three episodes of Love & Hip-Hop Hollywood. R&B singer Teairra Mari has fought with a person (verbally or physically or via drink-throwing) in all of them. Under reality TV terms and conditions, this makes her the breakout star of the season. Congrats?
Teairra has the most intimidating handclaps, most staged confrontations, and wildest one-liners. ("If she steps in the radius of me? Looky loo, woopty woo.") On Monday night's installment, she crossed the line when she actually hit her awful-amusing, narcissist ex-boyfriend Ray J in the face. The episode opens with Teairra at a tattoo shop, where she's just covered up a "Ray J" tat under her breast as celebratory closure. (Because we all know it's not over until that ill-advised tat of your ex's name is removed from your body.) The only other thing left to do is get the rest of her belongings from Ray J's place.
ENTER RAY J.
As Teairra is filming this tattoo party with her two friends, Ray J walks in, 'cause he's no doubt been told this is good timing. Like a dick, he dumps a box of Teairra's stuff on the floor and says, "You happy?" Which is a rhetorical question. He says it's retaliation for Teairra's previous fight with his new girlfriend, Princess Love. Flabbergasted and not at all happy, actually, Teairra forcefully shoves Ray J. "Everytime Teairra gets mad or gets loaded, she always wanna snuff somebody. And that's exactly why we not together right now," says Ray J in his postmortem confessional.
Surrounded by a cast that includes noncommittal rappers Yung Berg and Soulja Boy and ex-B2K members Fizz and Omarion, Teairra is the confrontational, unapologetic lover and fighter. Naturally, her screen-time is plentiful. She's been involved in the following fights so far:
In episode one, she confronts Ray J at a RayJ.com party. A RayJ.com party. A launch party for Ray J's web site, RayJ.com.
G/O Media may get a commission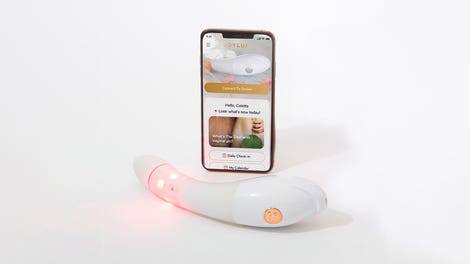 $50 Off
Joylux vFit Gold Device
Ray J's new girlfriend Princess Love was nice enough to take a picture of the stuff Teairra left behind at Ray J's (including Monistat and Vagisil) and return th—oh no, wait, she calls out Teairra in the middle of the RayJ.com party and mocks her for having an alleged yeast infection, which is... pretty common. Teairra responds by throwing a drink cup at Princess Love. Teairra's subsequent recap: "So I kinda lost my cool at Ray's party... Because of his two-dollar-ass bitch."
In episode two, Teairra argues with her friend Morgan at the RayJ.com party. The fight is about the fight she just had. Morgan tells her: "Don't touch me, 'cause you always get physical," and reiterates in a confessional: "She's always ready to turn up and put hands on people the second she's intoxicated." This is a pattern.
That same episode, Teairra has a verbal spat with her friend and roommate of two years, Hazel-E, about Hazel's "non-existent relationship" with Yung Berg. But it's nothing compared to her nine-year on-and-off bond with Ray J. Episode three ends with another sidewalk argument between Teairra and Hazel, who's in the middle of moving out of the apartment they share.
Teairra is a loose cannon. She's also the latest in reality TV's archetype of violent women who are promoted and rewarded for ratings. Often it's the black women getting the bulk of criticism, compared to a Snooki or a Stassi, the queen B of Bravo's Vanderpump Rules who slapped her ex-bestie on TV. If you follow this franchise like I do, you already had an idea of Teairra's storyline/characterization as the wildcard of this L.A. edition (which, by the way, is up there with the Atlanta franchise in terms of comical tragedy).
Before the Hollywood season premiered, VH1 teased footage of Teairra's fights, and by the time we're introduced to her in the first episode, the bad-girl persona (part real-life, part editing) is already established.
For what it's worth, Teairra has pushed back against the "crazy" label, saying she's, in fact, "not crazy" and that we'll see another side of her during the show. Some of her emotional outbursts are valid, given what we know about Ray J's history as a womanizer, but the physical abuse is inexcusable. Her reasoning is always essentially: He/she made me do it. Which, no. How much of this is her just popping off for the cameras? How do you solve a problem like Teairra?
Hazel-E makes a pretty spot-on observation that Teairra's shameless scrappiness may be the thing that "hindered her career." You might remember Teairra's debut single "Make Her Feel Good," or that she and Rihanna emerged from the same Def Jam R&B-pop machine in 2005. Jay Z, then President/CEO of the label, promoted Teairra as the "Princess of the Roc," his imprint, which made sense because her name sounds like "tiara." She was 16 then, and faced high expectations.
Teairra released a follow-up single called " No Daddy" that was terrible, and that likely secured Rihanna's status as the true tiara wearer. The chorus: "I ain't have no daddy around when I was growing up/That's why I'm wild and I don't give a (audible gasp)..." The music video starts off with Teairra punching her fictional father in the face.
She was subsequently dropped from Def Jam; Rihanna went on to become Rihanna. So maybe all this left her jaded and defensive, but I'm sure there's a link between her career failures and her aggression. The other obvious joke: "I ain't have no daddy around when I was growing up." But I'm no psychologist.
Hollywood is Teairra's chance to make a comeback via reality TV, which tends to attract people looking for a way in, or out. "I have to fight to make people see that I still live and breathe music," she says at one point, referring to her emotional, rather than physical, struggle. It's true that she can really sing—she was raised on gospel, and her grandma performed backup for Aretha Franklin. But can any of this help her career? For better or for worse, she's already making her mark.