As the months have turned increasingly warmer, Taylor Swift has been photographed more and more often out and about on the streets of New York City, wearing clothes. Distinctively put-together clothes.
While Swift hasn't reached the ranks of period-garb obsessed Dita Von Teese, she certainly has demonstrated that she has a proclivity for wearing clothes of a certain mid-century style.
There have been times when Swift has favored relatively modern garb, like the weekend of April 26.
G/O Media may get a commission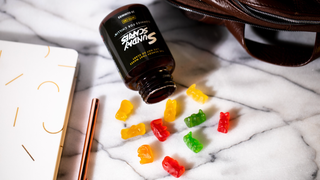 10mg CBD Gummies (22-Count)
And other times when she's shown interest in other decades: the 80s, the 20s, the...90s.
But even when it wasn't quite so warm out, Swift was showing an interest in a particular trend.
Headbands, modern takes on old-fashioned high heels, high-waisted pencil skirts, a bright red lip.
Housewife dresses for entertaining.
Short-shorts and high-heeled brogues, sometimes with a cute little hat.
Floral rompers and a proper purse.
Lately, though, Taylor has really been going for it.
Really, really, going for it.
Images via Pacific Coast News