America's golden daughter Taylor Swift, who turned 23 yesterday, is growing up and wants to prove it. Subsequently, she copped some rocker shit (stringy pink-tipped wig! Taylor Momsen eye makeup!) for the brand-new "I Knew You Were Trouble" video, which features some bubblegum Sid and Nancyish antics opposite the guy from Spiderman: Turn Off The Dark, Reeve Carney. Said antics take place in a public bathroom, some hotel rooms meant to be "grungy" (but I've totally slept in that caliber of room on family vacations :/) and some playing of billiards that is meant to indicate that He's A Rebel, And He'll Never Ever Be Any Good. In case we didn't get it, he also wears Negligible Father Figure suspenders and a Problem with Authority fedora.
me: well its like [Rihanna's] "we found love" but not as gritty
Dodai: trouble = playing pool. that is the plot of the music man, right?
Oh, Taylor Swarft, I love you, but you should stick to dancing around in a twee bar. That was pretty darn believable. [MTV]
Her brand new English mini-heartthrob boyfriend Harry Styles bought her 23 cupcakes. [E!]
And her bestie Selena Gomez got together a coterie of girls to dance to the song in what apparently is a choreographed routine (though you coulda fooled me). [YouTube]
G/O Media may get a commission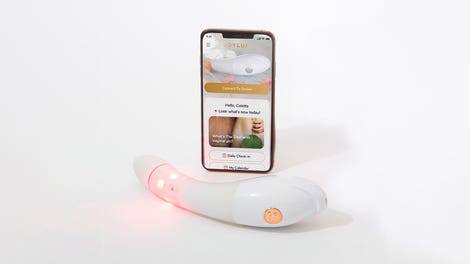 $50 Off
Joylux vFit Gold Device
---
Kristen Stewart wore another see-through dress (this one better than the other, IMHO), this time at a premiere of On The Road. [The Sun]
Also, "Rob [Pattinson] is a laid-back guy, but he is starting to find Kristen's grungy habits a turn off. She rarely washes her hair, only brushes her teeth once a day at best, and very rarely wears perfume." To which I would respond: it's bad for your hair to wash it too often, perfume can be really overwhelming and yucky, and—yeah, that is pretty gross about the tooth brushing. [Celebrity Dirty Laundry]
---
---
Dana Martin, Mark Staake and Tanner Ruane, the bizarre team of would-be kidnappers and paisley tie stranglers of Justin Bieber after he didn't reply to Martin's obsessive Twitter messages, also planned to castrate the kid for money. To answer your next question, the bounty on Bieber's testicles, they estimated, was $2,500. And good morning to you. [The Mirror UK]
---
Barbra Streisand doesn't know how to make coffee. But she can always buy it in one of the fucking insane fake shops in her basement. [Metro.us]
---