Taylor Swift visited Late Night with Seth Meyers on Thursday to talk about all the reasons why she's so Taylor Swift—y.
Swift — who I promise to only refer to as TayTay in those weird daydreams I have about running a vintage clothing store with her — talked to Meyers about the time she showed up at a fan's wedding shower unannounced.
"See, I would think that a person might die," Meyers said. I agree. I would keel over, drop dead if Burt Reynolds showed up at one of my parties and I wasn't able to properly prepare a welcoming ritual for him (the welcoming ritual is mostly me reciting all his lines from Stoker's Ace while balancing a sword on my head).
She said she bought the fan she surprised "a lot of kitchen stuff" for her shower. I would DIE if Taylor Swift bought me pots and pans. JUST DIE. "TayTay bought me this roasting pan, y'all! It's almost as pretty as she is!"
Meyers asked her about all that dancing at awards shows she does. "Everybody seems to be sitting there trying to look more unaffected by being at this awards show than the next person," she said. She told him she used to get nervous at awards shows but a few years ago she went all IDGAF and started to loosen up. Thank goodness because now we have this supercut.
G/O Media may get a commission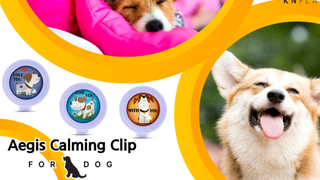 20% off
Aegis Calming Clip for Dogs
She also took this selfie with Boy George. She always knows how to make the perfect face for any given situation.