For someone who has collected quite the powerhouse of close friends, Taylor Swift certainly isn't into sitting at the popular kids' table.
Swift landed the cover of Fashion, Canada's No. 1 Fashion & Beauty Magazine and talked about how she's focusing less on romance and more on friendship:
When I was younger, I was just fascinated by romance and now the most important thing to me is the opinions of [my] sisterhood of friends.

"Celebrities surround themselves with people who don't know what they want and only have you to validate their lives – that's not interesting to me.

"You should not be threatened by women who are pretty and charismatic and good at what they do…my girlfriends have shaped me more in the past year and a half than any other factor."
"You'll never really feel like you're part of the 'in' crowd, but growing up means that matters to you less and less every day."
I do love it when celebrities call out the celebrity lifestyle. It's not like Taylor's picking out social outcasts or even vaguely unpopular people here, and I'm pretty sure that part about validating their lives is directed at least in part toward Katy Perry. But I'm glad she has her rag (and Bone) tag crew of ladies there for her. [Mirror]
---
Khloe Kardashian posted this picture of a couple of baby North West's toys.
G/O Media may get a commission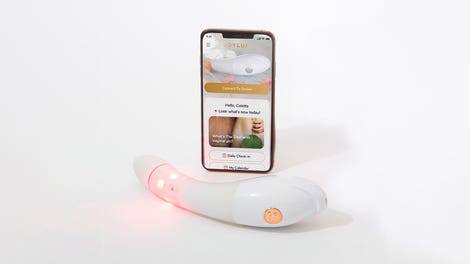 $50 Off
Joylux vFit Gold Device
I like how toy-Kanye is rocking the fur. [ Mirror]
---
Speaking of Kim, there's a new update in the Kim Kardashian: Hollywood game that allows you to plan a wedding and get married. It was nice knowing y'all. [ Daily Mail]
Amber Rose's post-Wiz rebound may or may not be Nick Simmons, the 6'7" son of Gene Simmons, rock 'god' and juggalo inspiration. Isha Aran, cheapening rock since 2014. jk 2013. jk 1990. [TMZ]
Jennifer Lawrence and Chris Martin went to a Kings of Leon concert together (Chris was a surprise guest), proving that even the stars can go on the most mediocre of dates. One can only hope they hit up a Macaroni Grill before the concert. [Just Jared]
Here's something about Robert Pattinson wearing "yet another cap"—"YET ANOTHER"—wonderfully titled, "He's hat it again." [Daily Mail]
Nick Cannon got the enormous tattoo of Mariah's name on his back covered up with "Jesus on the cross with angel wings coming off the end the cross." [TMZ]
James Franco is going to be producing a movie about fraternity hazing. [ONTD]
Amanda Bynes is now sporting a bandaid on her upper cheek. :/ [TMZ]
Holy shit it's been 16 years since Britney Spears' "…Baby One More Time" came out. "…BABY ONE MORE TIME" CAN DRIVE YALL. These dance moves are just as fresh as ever. [Pop Sugar]