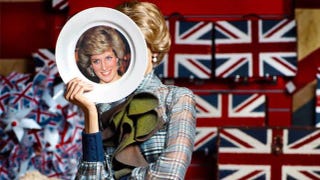 How often do you see an "I know! Let's dress the models up like famous people! That'll be fun!" editorial that's as conceptually original and funny as this one, from the new issue of Tatler? Not very often, sadly.

Which is sad, because this whole covering models' faces with other faces thing is awesome.

Hi there, Jean Shrimpton on the cover of British Vogue, October 1969. (Unrelated: I can't not point out that the orange crocodile and suede bowling bag depicted here costs £14,000. That's around $22,000, or just over half the price of the Olsen twins' famous backpack.)

I much prefer this to the SOP "create an alleged resemblance between a contemporary fashion model and a famous figure from the past through heavy makeup, judicious lighting, and lots of Photoshop" type of "icons" spread.
Don't You Know Who I Am? Robert Trachtenberg, Tatler August 2011 [FGR]