Blogger James Chartrand came out today as a woman — and her experiences reveal that the blogosphere, and the job market in general, aren't as egalitarian as some people claim.
James — she's still going by the pseudonym, hasn't revealed her real name, and that's not her in the pic — says she started blogging to help support her kids during a tough financial time. She began using a male pen name one day simply to distance a project from her still-struggling business, and, she writes, "jobs became easier to get." She continues,
Taking a man's name opened up a new world. It helped me earn double and triple the income of my true name, with the same work and service.

No hassles. Higher acceptance. And gratifying respect for my talents and round-the-clock work ethic.

Business opportunities fell into my lap. People asked for my advice, and they thanked me for it, too.
Did I quit promoting my own name? Hell yeah.
Under her male name, James made enough money to buy a small house and give her kids a comfortable life. She's only coming out now because "someone I trusted got mad and decided to out me" (a motivation with echoes of Belle de Jour). Interestingly, the copywriting and web design blog she owns (whose About Us section reads, "Owner James Chartrand is the pen name of a female thirty-something copywriter, problogger and online entrepreneur from Quebec, Canada") has a very stereotypically male aesthetic, with a bullet ripping through its title, Men with Pens. The About Us section even describes another female blogger as "the team's rogue woman who wowed us until our desire for her talents exceeded our desire for a good ol' boys club." Chartrand's disguise was, it seems, rather thick.
The success of BlogHer and the mommy blogger movement have led some to hail the blogosphere as a place of gender equality. While some mommy bloggers snag Wal-Mart endorsements, the world of business blogging — Men with Pens advertises its "business sense, branding expertise, and savvy sales and marketing smarts" may still be more of a Mad Men type of place. It's impossible to tell whether the bullets-and-bricks aesthetic of Men with Pens was a calculated decision, but it's possible that a male name and a stereotypically male persona are favored in the web marketing industry. Are mom-bloggers seen as fundamentally amateur, even if they shill for big companies, while men get the real professional gigs (even if those "men" are actually moms themselves)?
G/O Media may get a commission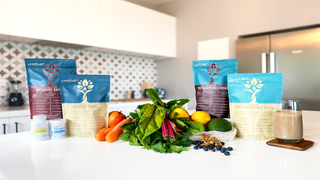 At this point, James seems to have built a brand, and it's unlikely that she'll suffer too much from her outing. But a post she wrote last year now seems eerily apt. In "Would You Become Someone Else To Achieve Your Dreams?," James writes, "Think about how you would react if someone told you that who you are is holding you back – and you knew they were right. This person tells you that if you were someone else, you could live your dream." She adds,
If you had the chance to be someone else, would you do it? Would you take on a role that makes opportunity possible, makes life easier, and makes your dreams become reality? More importantly… who would you be?
For James, it appears the answer was yes — and it's easy to understand why. Still, it's pretty sad that the "role that makes opportunity possible, makes life easier, and makes your dreams become reality" still has to be that of a man.
Why James Chartrand Wears Women's Underpants [Copyblogger]
Would You Become Someone Else To Achieve Your Dreams? [Men With Pens]
About Us [Men With Pens]