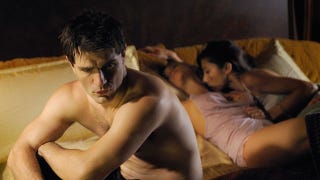 The upcoming season of Syfy's supernatural soap Being Human is dripping with drama. And as tempting as it would be to drop a few spoilers, it's just so pleasing to be withholding. So while you wait for tonight's season premiere, you'll have to quench your thirst with these juicy blind items.
Which troubled couple has finally started coming clean with each other? He's known for his erratic mood swings, but after her traumatic miscarriage, they are both ready for a fresh start. Only problem? After finally seeing his true nature, it looks like she might be hiding a secret of her own.
Which haunted romantic still hasn't found closure after her broken engagement? Sure, she is finally getting out of the house, but that doesn't mean she's over her bad-news fiancé. Maybe now that the cops have him, she'll finally move on. You know what they say, "When one door closes, another one opens."
After putting his neck on the line, which old soul just made a serious power play? This guy might be in charge now, but being cutthroat doesn't come naturally. Just how long he can maintain control is anyone's guess.
Sink your teeth into those tantalizing teasers, and don't forget to tune in tonight at 9PM ET/PT for the season 2 premiere of Being Human—only on Syfy.