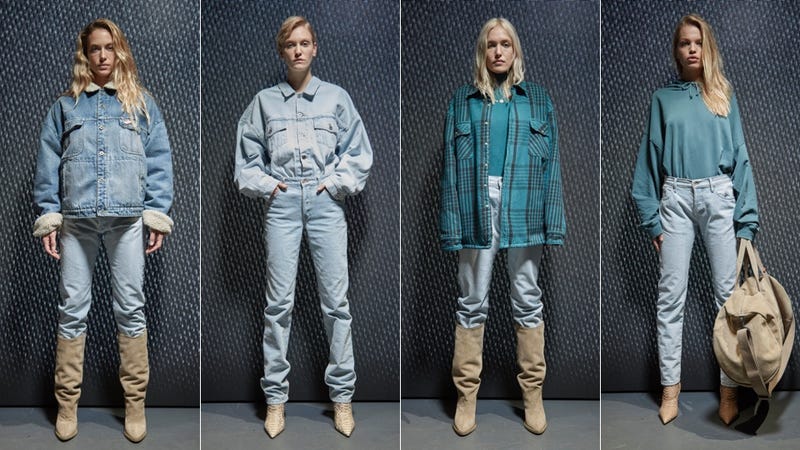 After yesterday's flurry of social media depicting dark images of projected-screen models who looked like they just stepped out of a Dis Magazine concept shoot, more straightforward and detailed images of Yeezy Season 5 have arrived. What they show are a distinct bent towards Americana—that California desert air can…
Kanye West's Yeezy Season 5 commenced at New York Fashion Week today and in keeping with his high-priced tradition, it looks like rugged basics in muted tones meant to evoke eternity. Also, though: denim, a first for Yeezy, shown like workwear for a truly utilitarian vibe.
Though Kanye West's Spring 2017 Yeezy show was widely panned for the way it subjected street-casted models to hours of intense heat to the point of passing out, it still achieved the distinction of being the most racially diverse runway at all of fashion month. Ninety-seven percent of West's cast was comprised of…
As I have expressed here many times, clear is my favorite color, so imagine my delight when I noticed it has already appeared twice so far on the runway this New York Fashion Week. The fashion world is finally catching up to the splendor of synthetic see-through, as promoted by '60s go-go dancers, exotic supply…
Sometimes you're invited to a party for an open-air observation deck and 70th-story glass slide, and when that happens you sometimes want to wear a length of cord as a necklace and not much else. It's see-through, inspired by the architecture!
On this week's episode of Keeping Up With the Kardashians, the A-Plot was Kanye West's fashion show; the B-Plot was Khloe's nerves about Lamar's first public appearance; and the C-Plot was Scott Disick's ongoing struggle with sobriety. Join me as we take a look at the inner workings of a madman and the muses he calls…
Australian artist Scott Marsh is the man responsible for the prodigious mural depicting Kanye West sucking face with himself. And now he is $100,000 richer after selling a print of the original painting for that same price.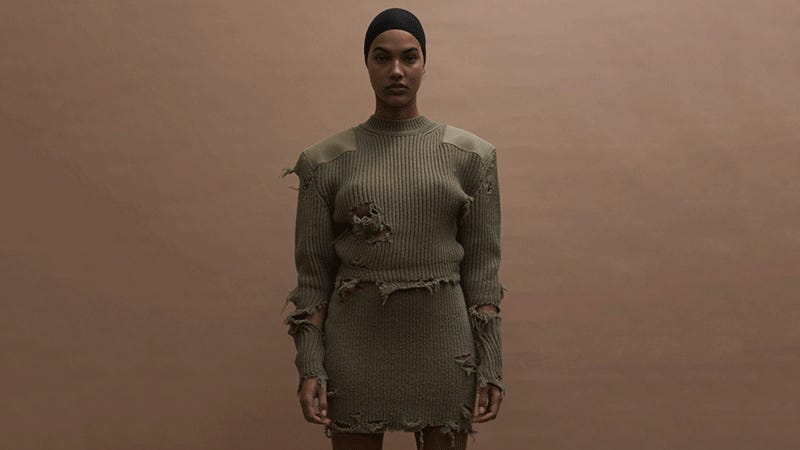 A 5,000-year-old linen dress discovered in a cemetery south of Egypt has just been confirmed as "the world's oldest garment" by the University of Oxford. After radiocarbon dating, the distressed and, quite frankly, creatively barren v-neck number was found to have been made "between 3482-3102 BC," where it was…
If you happened to be one of the people who copped Kanye West's Yeezy 750 Boost, an Adidas sneaker that looks like an injured Storm Trooper's Aquasock, prepare to be very annoyed: The Shoe Game points out (via Racked) that Zara's hawking a remarkably similar little shoe, down to "the ridges on the sole to the shape of…
The Hadid sisters are officially having their moment, and New York Fashion Week was where they made that moment known. While Gigi's been doing quite all right as a model for some time, Spring/Summer 2016 was apparently the season Bella stepped it up herself. Each sister walked shows individually, but they were also…
Kanye West, America's tantrum-throwing beat-dropping id, gave an interview to the Times this week so overflowing with self-aggrandizing proclamations practically begging to be ironically cross stitched onto a $30 Etsy throw pillow that it made Muhammad Ali sound like Mahatma Gandhi. But when you strip away the…