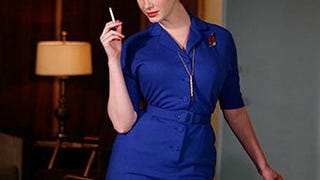 Writing on MSNBC, Eve Tahmincioglu really kind of sums it up: "Too sexy. Too frumpy. Too conservative. Women can't get a break when it comes to what they choose to wear to work." Which is, it turns out, a problem.
Debrahlee Lorenzana says she was fired from Citibank because her beauty was "too distracting" for her male colleagues. Her story is a disturbing example of discrimination in a male-dominated workplace — but also of girl-on-girl crime.
After our last work-centric installment of Dress Code, we received some good questions on dressing for trade jobs and sportswriting gigs, what's worth spending money on, how many pairs of pants a woman needs — all issues to be addressed!
Work. Chances are, you will find yourself employed at some point in your life, but dressing appropriately for your workplace can be a tricky endeavor. As a part of our ongoing Dress Code series, we're helping you navigate these waters.
Reuters says the survey, conducted by at Zürich-based human resources company, found that 53% of Americans think their bosses are dishonest. Specifically, 28% think their superiors are lying about their job security. A majority also think their bosses are unfair and disloyal. Oddly, two thirds of Americans would not…