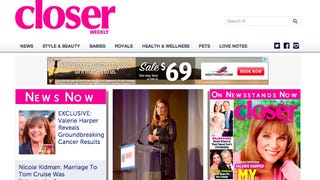 Wednesday is a great day for older female grocery shoppers who despise young people who aren't their progeny, because Bauer Publications has launched a new women's magazine called Closer. As this week is it's debut, it's going for only 25 cents. A steal, basically.
An analysis of recent abortion statistics from the UK indicates that in the 2000s, the abortion rate among women in their forties rose by 30 percent. Cue references to the fab four! No, really.
In today's Times, Stephanie Clifford notes that the average More reader makes about $93,000 — $30,000 more than the average for Vogue, Allure or Bazaar. Yet More has hardly any luxury ads. Because More's for women over 40.