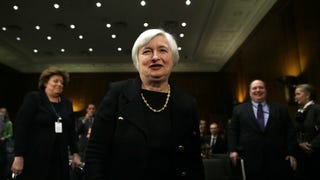 BREAKING: Federal Reserve Chairwoman Janet Yellen, one of the most powerful women in the world, sometimes reuses clothing. This is News, according to a writer for a prominent Washington DC blog that normally covers stuff of importance like "laws" and "government" and "men who wear the same fucking outfits like every…
Asking whether female CEOs and politicians have a different, "better" grasp on unchangeable ethics is a sticky question for a few reasons — it oversimplifies and glosses over powerful women who have made corrupt personal or professional choices and suggests that only men can be id-driven, complex, flawed leaders.
First question on BigThink's female leadership style quiz: you're "heading up a task force to re-evaluate U.S. military plans along the Afghan-Pakistan border, and you've got to make an urgent decision about whether to recommend more diplomacy or military action."
The Obama team announced that Harvard law school dean Elena Kagan will become the first confirmed female Solicitor General. Who said there wouldn't be enough women in the Obama Administration? [Think Progress]