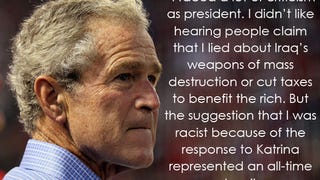 — Or so he writes in his memoir Decision Points. Bush also tells Matt Lauer that "the misery in Louisiana affected me deeply as well," but Kanye declaring he "doesn't care about black people" was still a "disgusting moment."
[Hebron, West Bank; October 18. Image via Getty]
The Emmy Awards are tonight, and host Neil Patrick Harris apparently has a few tricks up his sleeve, including a visit from Dr. Horrible and John Hodgman announcing questionable factoids as the winners go up to collect their prizes. [EW]
According to a search warrant, Dr. Conrad Murray is officially the target of a manslaughter investigation into the death of Michael Jackson. But more importantly, Michael's hair is being made into diamonds.
Gwyneth Paltrow has advice for Joaquin Phoenix, who's embarking on a new hip-hop career. She says, "Hmm ... maybe to go live in the projects for a few years to get some authenticity." [People]