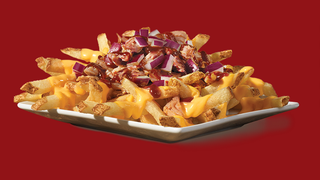 This is not really a review of the Wendy's Pulled Pork Cheese Fries; in order for it to function as a review, I would have to go to a Wendy's location and say, aloud, to a Wendy's employee, "I will have the Pulled Pork Cheese Fries," and I can't even rehearse that without my hands literally punching me in the face of…
Wendy's campaign to turn tweets in to love songs is continuing to be ridiculous, silly, and successful—now they've enlisted the ultimate love song masters to help them out. In this video for "YES YES YES!" released yesterday, Boyz II Men sing about…well, a pretzel bun. But they do give us a couple other gems, like…
Deep down, we all know that there are, shall we say, unsavory ingredients in many of the foods we so love to eat. (I am looking at you, Mr. McRib). But these past few weeks have been kind to our ability to maintain the illusion that what we eat is not filled with hair and bugs and spare animal parts. First, there was…
Don't let Wendy's impress you with its "Baconator" hamburger. While we only get to choose how many beef patties we want on the troublingly named Dave's Hot 'N Juicy burger, the chain is saving the good stuff for customers in Japan. Two years after leaving the country, the company has opened a new restaurant in Tokyo,…
Judging from these Wendy's training videos, in the '80s people could only understand instructions when presented in pop song format. In "Hot Drinks," we learn working in fast food is just as exciting as starring in a Michael Jackson knockoff.
[Selma, Texas; June 11. Image via Getty]
Oprah was kinda serious all week, with her quitting smoking campaign, MLK Day special, and adult children of divorce episodes. So for this week's Lady Bunch, the focus will be on Tyra (duh), and Whoopi Goldberg's increasing disdain for her View co-hosts. Clip above, and, as always, lots more after the jump.