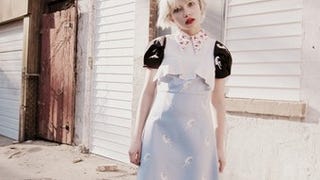 Hello, Jezebel readers! It is I, That Annoying Girl With The Blog, and I will be guest-blogging here for a week.
Ladies (and gents!): we're thrilled and excited to introduce you to the site's newest staffer, Irin Carmon.
Well, not really, but Kay, our guest blogger for the entire week, is an avowed foodie in addition to kicking ass and taking names on the website she oversees, Campus Progress.
Please give a warm welcome to writer and editor Latoya Peterson, who will be guest-blogging on Jezebel for the next two weeks.
This morning, I'm happy to introduce* Lindsay Robertson, who will be bringing her inimitable brand of comedic yet kind-hearted pop culture coverage and criticism to the virtual pages of Jezebel this week.
We're happy to announce that, for the next five days, our afternoon content will be supplemented with contributions from a guest blogger: writer, editor, pop culture aficionado and California native Paige Ferrari.
Do you know what today is? Yeah, well for some reason I Googled "March 21" instead of "May 21" and then wrote a post about how it was Kevin Federline's birthday and the 28th anniversary of the "Who Shot J.R." episode of Dallas. See, the "Who Shot J.R." episode of Dallas was watched, simultaneously, by 83 million…
Here are your Jezebels: Anna Holmes (left), Jennifer Gerson (center) and Moe Tkacik (right). Photo by Nikola Tamindzic; shot on location at Sutra Lounge, NYC.