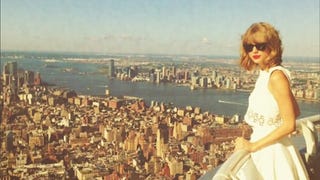 In an interview with BuzzFeed, new and true New Yorker Taylor Swift said she considers the World Trade Center memorial the one New York City tourist attraction that's actually as good as everyone says it is.
Courtesy the song "Welcome To New York," Taylor Swift has been named "NYC's Global Welcome Ambassador for Tourism," making one wonder if the song was just a super-genius Bloombergian scheme hatched by Swift and the tourism board to promote 1989 and also all those fugnacious condos they keep letting people build.
The inevitable march towards Taylor Swift's new album 1989 continues with a new single, and it's only getting worse: "Welcome To New York" is a gentrification anthem so obtuse it makes one wonder if she is, in fact, trolling at this point. And it calls into question whether rich white-person privilege is, in fact,…
Taylor Swift will be releasing a song called "Welcome To New York" that, while not notably worse than Madonna's "I Love New York," is certainly not better. Here is a preview; do with it what you will (burn your computer, start looping it indefinitely).