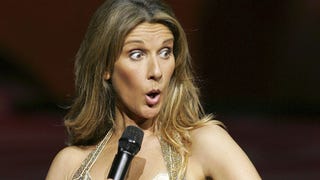 In a very arty, wacky spread for V Magazine, Celine Dion poses in multiple photos, alternately wearing a bunny mask, stuffed-animal pants, white leather, thigh-high boots and hot pants, and most notably, nothing on top. There's no nip, but you can actually see some underboob in one of the shots. It is at once the most…
America has a lot in common with Canada, its sister to the north, but our approach to the abortion debate is not one of them. While America is like an angry giant, busy trying to block access to abortion in every possible way, Canada is a gentle giant, sitting up there cool as a cucumber. There are certainly those who…
Now that there are starting to be anti-abortion protests in England on par with what we've been experiencing in the United States for years, the British Pregnancy Advisory Service (BPAS) has issued statement saying that they're fearful that the increasing number of high-profile anti-abortion campaigns in the country…
Lady Gaga is on the cover of the new issue of V, shot by Inez von Lamsweerde and Vinoodh Matadin. This is her third appearance on the magazine's cover. Gaga's cover is timed to coincide with the start of her new sideline gig as a V columnist. [Fashin]
Supposedly, Kate Moss and Jamie Hince are engaged. According to tabloid reports, they were spotted leaving a jewelry store recently, so it must be true! Can't you see this is the body language of a newly engaged couple?
Nicki Minaj is on the cover of V, looking like a sort of Keith Haring painting come to life. She's so wild, that Nicki Minaj! And lest you think there's some crafty behind-the-scenes Svengali calling the stylistic shots, Minaj says:
When Tom Ford guest edited Vogue Paris' Holiday issue, he put in an editorial that's a little unusual for a fashion magazine: it features only "mature women" who haven't gone under the knife.
The October issue of the fashion magazine Numéro features an editorial spread in which French model and Estée Lauder face Constance Jablonski poses in a brown Afro wig and dark makeup with this season's second-hottest accessory: a black baby.
American Apparel's stock is tumbling this morning, following news that the company's dodgy accounting has caught the eye of the U.S. Attorney's office. It's currently trading at 0.83. [AMEX:APP]
Since we took note of the Style.com scribe's apparent dealings with Yves Saint Laurent, a company he both "consults" for (for fees understood to be in the thousands) and "reports" on, stories of his other exploits have started trickling in.
While it might be easy enough to assume that the fashion industry has too much on its mind today — what with the opening of the new Gucci flagship on 5th Avenue and the fashion shows of Badgley Mischka, Rodarte, J. Mendel, Matthew Williamson, Behnaz Sarafpour, Tory Burch, and Narcisco Rodriguez — the truth is that…