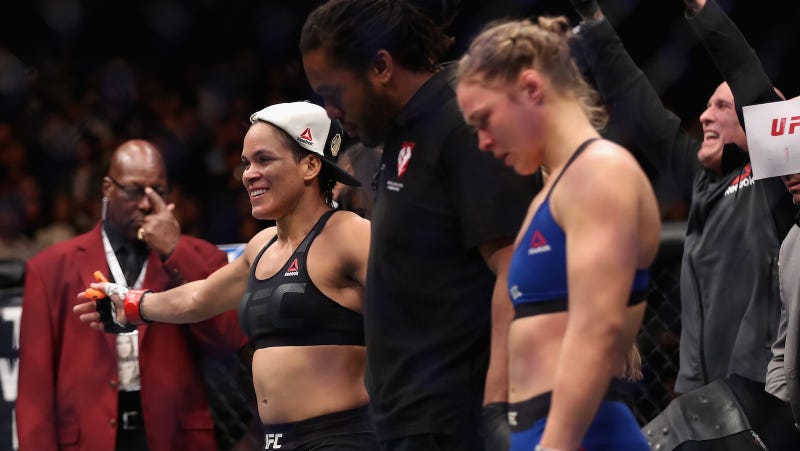 Ronda Rousey spent a lot of time leading up to her 2015 fight with Holly Holm talking to the media, and she got her ass kicked. Also, her face. In preparation for her fight against Amanda Nunes Friday, she is staying strong and silent.
Ronda Rousey is not a small woman, she's an MMA fighter and her body looks like it has a job to do because it does. Still, some sports websites have called her body "huge" but the outspoken Rousey is punching back.
On Saturday night, undefeated UFC women's bantamweight champion Ronda Rousey took on Cat Zingano, a strong and undefeated fighter in her own right, and one of maybe two women alive who, on paper at least, possibly had a chance to at least maybe show Rousey something. Then the fight started, and it became immediately…
Ronda Rousey is an Ultimate Fighting Championship superstar, but she's currently beefing up her resume with modeling and acting gigs: she's just been named the face of Buffalo David Bitton jeans, and is appearing in big budget films like Fast & Furious 7, Entourage, and last summer's The Expendables 3. With this…
After UFC light heavyweight Thiago Silva was arrested and charged with attempted murder back in February following a string of incidents that began with him allegedly forcing a gun into his wife's mouth and ended in a confrontation between the fighter and a SWAT team, UFC president Dana White said flatly that Silva…
Ronda Rousey, Olympic judoka and holder of sundry MMA titles, won the Ultimate Hugging Fighting Championship's first-ever women's bout Saturday night, defeating an unfortunately overshadowed Liz Carmouche to secure the bantamweight title.
Exciting news for female mixed martial artists and the little girl playground scrappers who aspire to be them — the Ultimate Fighting Championship (UFC) has announced its first ever female division and has promised to give it the same level of attention (meaning heavily promoted pay-per-view fights) as the male…