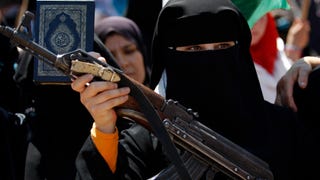 The ongoing civil war in Syria is being felt beyond the Syrian borders. In neighboring countries like Iraq, Syrian fighting can be felt most acutely in the strain of hosting thousands of refugees. In Israel, the threat of a broader conflict transcending Syria's borders looms large. Syrian conflict, however, isn't…
Based on two true stories and a bit of forward thinking, Three Big Pigs combines Angry Birds animation with Disney melodies to walk us through the fate of three Arab League leaders.
Qaddafi's public rambling today has told us nothing about what will happen in Libya, nor whether the bloody reprisals against protesters will end. But as the dust settles on Tunisia and Egypt's unusually peaceful revolutions, women inside and outside of those countries are asking what's next for them.
Algerian demonstrators filled a central square in Algiers today, demanding their President step down as the Presidents of Egypt and Tunisia have done. While the protest fizzled by mid-afternoon, organizers declared the outing a success and predict that what happened elsewhere in North Africa will likewise happen in…
Zine el-Abidine Ben Ali, the repressive president of Tunisia, has left the country after waves of protests. Did you know everyone also hates his Imelda Marcos-like wife? The revolution was basically her fault. Okay, not exactly, but she didn't help.
[Tunis, October 22. Image via Getty]
[Tunis, August 26. Image via Getty.]
[Djerba, Tunisia; May 11. Image via Getty]