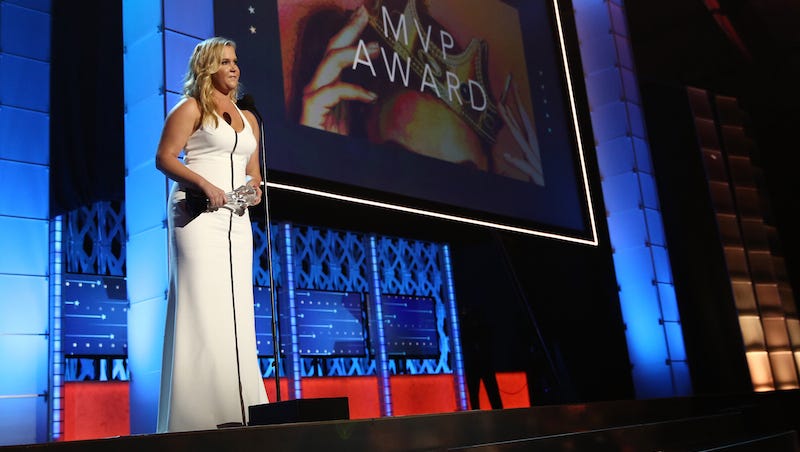 On Sunday evening, comedian and really brave woman Amy Schumer accepted the Critics' Choice MVP Award, referencing one body part that had had a special influence on her success.
New York Senator Chuck Schumer and his slightly better-known cousin Amy held a joint press conference Monday, calling for stronger background checks and better mental health funding as part of a plan to try to reduce the devastating number of mass shootings in the United States. A gunman killed two women and injured…
Nearly a week following the Lafayette, Louisiana theater shooting where two women were murdered during a screening of Trainwreck, Sarah Clements, the daughter of a Sandy Hook survivor, posted on open letter to Amy Schumer. In the letter, Clements calls on the actress to "demand change" and "Be a voice for our…
A comedic godsend, at least in the eyes of those who worship her, Amy Schumer is a current cultural beacon, and in many ways, a void-filler. So it's fitting that her first major film is a rom-com. The hardest-to-reinvent Romantic Comedy—two words that instantly yield lowered expectations—seems at once in need of…
It's weird how most films (outside the angst-ridden English Patient/Romeo and Juliet/loving someone you can't have genre) rarely focus on how falling in love is often a total nightmare. But it's looking like Amy Schumer's romantic comedy Trainwreck might finally right that wrong.
Amy Schumer is famous for her no-bullshit approach to comedy and, on Sunday, she brought her wit to Comedy Central's Night of Too Many Stars—where she talked about Hollywood's weird body image issues. It seems she wrote herself a movie called Trainwreck and then was encouraged to starve herself to play the lead part…